This article is more than 1 year old
Deus Ex: Human Revolution
Augmented realty
Review Forget the lacklustre sequel Invisible War, Deus Ex: Human Revolution is the true, worthy successor to Deus Ex, a breathtaking paragon of the genre the original helped define.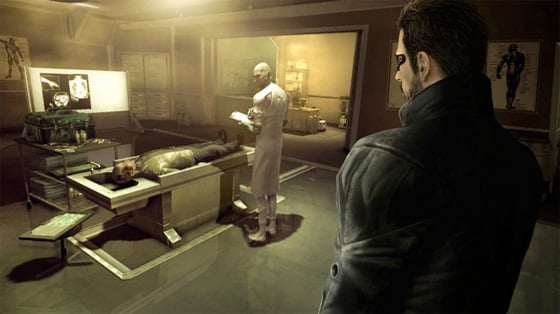 Bringing more to the table
Yes, there's little novelty in its genre conceits. Hacking and circumvention, augmentations, turrets and robots, moral choices and social interactions – they're all well-explored conventions. But this isn't about doing things differently to System Shock 2 or Bioshock, or even Deus Ex, it's simply about doing them better.
Set in 2027, a quarter of a century before the original, Human Revolution's future is as distinct as it is familiar. Its world stands at the the threshold of transhumanism, with rapidly advancing neuroprosthetics improving the lives of millions, replacing limbs and enhancing mental capabilities, social skills and even sexual gratification.
Yet it's also remarkably similar to the present day - the finely crafted neo-noir narrative resounding with contemporary parallels: the division of wealth, cosmetic surgery, ethical science, corporate greed and media manipulation.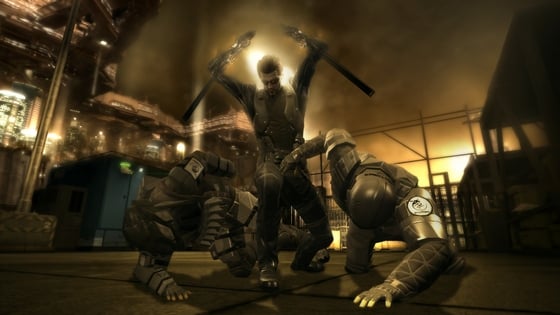 Both of you hit the floor
It's also a strikingly beautiful world. Portrayed in a distinctive black and gold cyber-renaissance palette, the game's aesthetics straddle Blade Runner's retrofitted dystopia and Mass Effect's techno-clinical milieu.
A great looking game on the consoles, it's an achingly beautiful one on PC, with improved aliasing and softer lighting and shadows, and visibly higher polygon counts, courtesy of DX11 tessellation.
You play as ex-SWAT cop Adam Jensen, head of security for America's largest biotech company Sarif Industries and right-hand-man to its enigmatic founder David Sarif. In a brief, playable prologue augmented mercenaries attack Sarif Industries, stealing valuable technology, killing its top scientists - including Adam's love interest Dr Megan Reed - and leaving Adam for dead.
Cue Steve Austin-time, as Adam is rebuilt using bleeding-edge, military-grade augmentations before setting out, six months later, to unravel the global conspiracy behind the attack.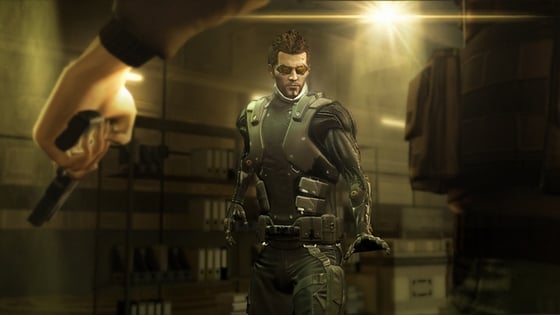 Ah, that was a gun in your pocket and you're not happy to see me
Your investigations take you across the globe, but they're restricted to a handful of locales, with the slums of Detroit and a monstrous, two-tiered megacity on China's Hengsha Island featuring most prominently. But while considerably smaller than Fallout 3's sprawling wastelands, Human Revolution cleverly maximises exploration by carving into its locations a dizzying maze of alternative routes in the form of vent shafts, backstreets, rooftops and sewers.