Residents of Runnymede can now follow the goings-on of their local plod on a free iPhone app, assuming plod decides to record his location on his Huawei-supplied handset.
The pair of apps were developed by UK-based Multizone, and the public component is being launched on the iPhone today. That free app can be used to pick up the police feeds on Twitter, Flickr, and YouTube, as well as showing a live feed of what officers are doing now and allowing the public to say if they think that's appropriate use of police time.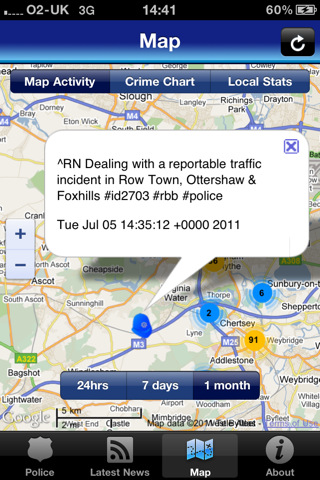 The live feed is fed by the officer's side of the application: the copper selects from a list of activities they'd like people to think they're doing, and the geotagged data is uploaded for public viewing. The public can then use a sliding scale to say how important that activity is to them.
Huawei, along with Vodafone, volunteered to provide Android handsets for the police, though many are apparently using their own iPhones instead.
Angus Fox, of Multizone, told us he's had individual coppers asking if they can use their personal kit, as they're keen to tell people how they spend their days. Despite Huawei's generosity, there aren't enough Android handsets to go around the 40 or so officers on the streets in Runnymede.
The app was developed using Appcenter's JavaScript-cross-compilation technology to ensure iOS, Android and BlackBerry supported it: RIM's platform is popular among those trying to stop riots as well as those trying to start them. The iPhone version is being launched first, but public apps for the other platforms should follow quickly.
We can only hope the service proves more useful than Manchester's effort, which was so quickly and effectively lampooned despite the real tweets being as surreal as any comedy effort:
"Call 384 report of man holding baby over bridge – police immediately attended and it was man carrying dog that doesn't like bridges #gmp24" ®
Similar topics