Apple MacBook Pro 17in 2011
Flagship quad-core notebook
---
Windows cleaner?
Nor can I refrain from pointing out the excellent quality of the 1920 x 1200-pixel display. No space is wasted either: the bezel around the screen area measures less than a centimetre. After installing Boot Camp in order to run our benchmark tests, I was reminded how gorgeous Windows 7 can appear when running on a Mac.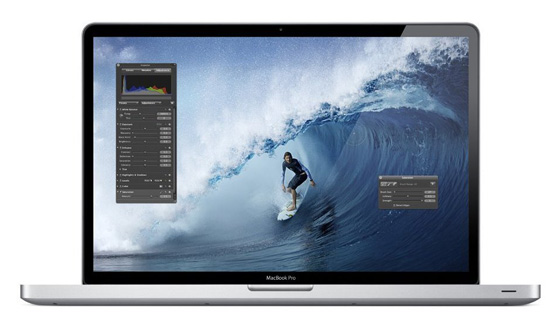 Full HD screen and then some
And I can't really talk about a MacBook Pro without mentioning its Magic Trackpad pointing device. For those of you who have never seen one of these before, it's an untypically large (103 x 73mm) multitouch trackpad with a perfectly smooth glass surface. There are no click buttons: instead, you press down on the pad to make it click, and designate areas or special touch combinations to impersonate a right-click.
You do need to exert quite a bit of pressure to make the Magic Trackpad click, so Apple's System Preferences also allow you to reconfigure it to accept a variety of light-touch gestures to act as 'soft' clicks. Since your MacBook Pro 17in is now supplied running the OS X Lion operating system, you have plenty of new gestures to play with, too.
As well as Lion, the computer comes pre-installed with the full iLife software suite, including GarageBand, iPhoto, iMovie, iDVD and iTunes. I'm not quite sure why they bother installing iTunes since on every OS X computer I have ever tested it tells you that it needs updating the very first time you run it.
With the 17in MacBook Pro you get a 2.2GHz Intel Core-i7-2720QM (quad core CPU) with 4GB of RAM and an AMD Radeon HD 6750M GPU with 1GB of GDDR5 memory in the base model. Yet despite all this, the MacBook Pro 17in suffers the usual Apple problem: there never seem to be enough connectivity ports.

The only MacBook Pro in the range that still has an ExpressCard/34 slot
Sure, you get three USB 2.0 ports (give me three, I'll ask for four) on the 17in model, but others are an odd bunch: Firewire 800, ExpressCard/34 and Thunderbolt. I have met just one person over the past year who still uses Firewire, and have yet to hear from anyone using either of the other two standards. ExpressCard/34 is pretty specialised these days – Apple phased it out on the 15in model in favour of an SD card slot – and Thunderbolt still strikes me as too clever for its own good. Yes, it doubles as a Mini DisplayPort, but let's face it, until some compatible kit starts appearing, that's all you can use it for.