Jesus Phone gives Sprint redemption 'this October'
Mobile soothsayers speak
---
Sprint Nextel will become the third US wireless carrier to offer Apple's iPhone, according to the ever-loquacious "people familiar with the matter".
According to a Tuesday report by The Wall Street Journal, sources say that the struggling carrier will begin to offer the iPhone 5 in mid-October.
If that timing is correct, and if Sprint will begin offering the iPhone at the same time as do AT&T and Verizon, that would push the appearance of the iPhone 5 back a couple of weeks from the oft-rumored late-September date.
However, as the WSJ astutely points out, it would also remove any iPhone sales bump from Sprint's third-quarter financial performance – that quarter warps up at the end of September.
Sprint could use the boost. At the beginning of trading on Tuesday, its stock sagged to $3.24 per share – a far cry from its $74.28 peak in October 1999, or even this June's $5.93 12-month high.
That 1999 peak, of course, came well before Sprint's unhappy marriage to Nextel, announced in 2004 and completed in 2005. That get-together was characterized by Bloomberg as the third least-successful merger of the 100 biggies it studied during the M&A-happy period of 2005 to 2008.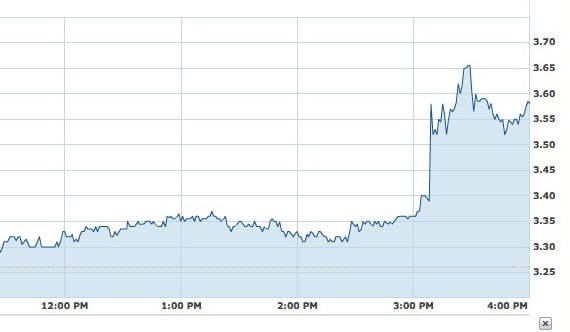 Sprint's Tuesday stock pricing – guess when the iPhone rumor broke? (source: Yahoo! Finance)
Investors were juiced by Tuesday's iPhone 5 rumor, however, and boosted Sprint Nextel stock as high as $3.65 when the news started to spread on Tuesday afternoon. Fourty-three cents may not sound like much, but think of it instead as 13.3 per cent, and it sounds more heartening.
Should the rumor be true, the voracious appetite of US consumers for the iPhone and the pent-up demand for the iPhone 5 would certainly be good news for beleaguered Sprint. During the first half of this year, Verizon sold 4.5 million iPhone and AT&T – which still offers the iPhone 3GS in addition to the iPhone 4 – sold 7.2 million.
Sprint sold 0 million – it has nowhere to go but up. As does its stock price, essentially.
Sprint being able to offer the iPhone 5 has one other interesting wrinkle. If Tuesday's rumor is true, only T-Mobile out of the four major US carriers would be iPhoneless. Lobbyists for T-Mobile and AT&T, however, are busily working their way through the thicket of regulatory approvals needed for their hoped-for merger – a merger that Spring most assuredly hopes will not be approved.
Perhaps allowing Sprint to offer the iPhone 5 would take some wind out the arguments against what some regulators might consider an AT&T-Verizon duopoly if the T-Mobile acquisition were to be approved.
Stranger back room deals have been arranged before. ®