This article is more than 1 year old
AlertMe network power-meter kit: Suitable for techies?
Our man plugs in and gives it a spin
Review Simply measuring and monitoring energy usage helps people conserve, and helps avoid unexpected high bills while 'leccy prices are rising as quickly as they are now. Consumption monitors save cash and the planet, which is why UK.gov is keen on getting smart meters in every home, although these are probably rather less polished than AlertMe's kit.
The AlertMe technology includes energy and security management, and is an integrated set of well-styled consumer electronics gizmos and webpages.
AlertMe can track energy use for the whole house online, and I can turn stuff on and off from my phone or laptop while I'm out to confuse would-be burglars.
I was sent for review an energy-monitoring set of:
"AlertMe Energy" (£49.99): the AlertMe Hub and Meter Clamp
"In-Home Display" (£29.99)
1 x "SmartPlug" (£25.00)
A working subscription ("Annual Energy Subs" would be £19.90)
I've previously tested two other clip-on energy meters at home, the Efergy Elite 2.0 and Npower (GEO) Smartpower, neither of which had computer or Web connectivity, and AlertMe has pros and cons compared to them as you'd expect.
Doesn't work well with wind and solar
Firstly, the big caveat for my home. If you're a rare bird like me and have solar PV or wind or other microgeneration at home, then AlertMe may not be for you, because as a standard limitation of this type of "clip-on" meter (more below), AlertMe cannot tell whether you are importing from the grid as it expects, or exporting excess energy and burnishing your green halo: all flow looks like consumption to it. Thus most of the cleverer features such as predicting cost per day or month or year, or estimating carbon footprint, etc, are pole-axed by bogus numbers! AlertMe has plans to address this shortcoming for microgenerators, and I hope to review their new tech soon.
How it works
The AlertMe measures power consumption for the whole house by means of a clip-on "clamp" meter that goes round one of the fat supply wires in your meter cupboard; no electrician is needed to install it. (The clamp is connected to a battery-powered wireless transmitter.)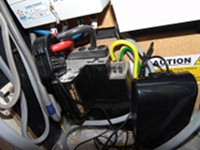 The clamp/transmitter doing mortal
battle in my meter cabinet
AlertMe like all such clamp meters measures current flow, and that allows it to estimate power consumption by, for example, assuming the standard mains voltage.
But as the (RMS) voltage can vary a bit by time of day, how close the house is to a substation, etc, etc, that can introduce noticeable error.
Also, almost anything other than a water heater or electric fire will not be quite a "resistive" load, and won't draw current in phase with the mains voltage, skewing the clamp-meter estimates quite a bit. And energy-efficient electronics can be especially-badly misjudged. For example, the ~5W that our washing machine uses while in delay mode shows up as AlertMe as 30W which might have dissuaded me from using that feature had I not already measured with a plug-in meter!
Lastly, small loads are harder to measure accurately, so again you might be misled about how worthwhile it is to turn some efficient gadgets off. The consumption shown has to be regarded as approximate.
The AlertMe Smart Plug comes to the rescue on these issues however as it can accurately measure consumption of the appliance plugged into it, and you can get a pretty graph/log of the results, and it doesn't suffer from most of the clip-on meter's problems.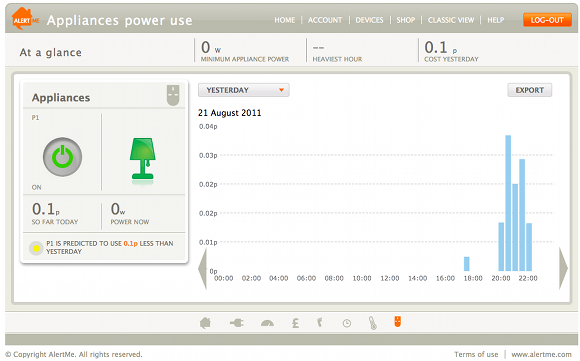 "Appliances" screen for desk light usage measured by Smart Plug "P1". Shows current usage cost of ~0.1p per day with my 7W LED anglepoise!
(The Smart Plug lives up to its name, and even lets you turn the plugged-in appliance on and off remotely, from the web or by phone text message. I've done it from a beach in deepest Devon...)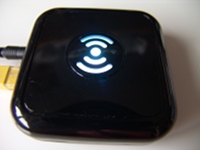 The hub: tasteful shiny Desiato black plastic...
Data from the meter clamp and the Smart Plug and any other devices you have is relayed via the supplied hub (which plugs into your ADSL or cable router) and the internet to be stored on AlertMe's servers.
From there you can login to export it to CSV files, view it as pretty graphs, estimate your carbon footprint and expected electricity bills, and compare your green halo with that of your area and the rest of the country.