Britain's iconic red phonebox turns 75
Calls for a celebration?
---
The most recognisable form of Britain's much-loved red telephone kiosk celebrates its 75th anniversary this year.
Designed by English architect Sir Giles Gilbert Scott, the British phonebox went through a number of tweaks in the 1920s and early 1930s, before the K6 model was introduced to commemorate the silver jubilee of King George V in 1936.
It was soon installed extensively outside of London in every town or village with a post office, starting with 8000 installations in the first year. By the end of production, in 1968, nearly 70,000 had been put in place throughout the country.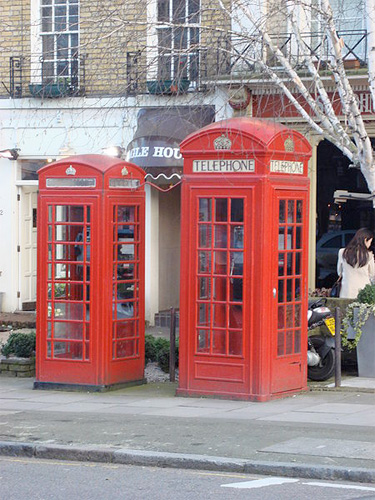 K6 sits next to its bigger brother, the K2, in St John's Wood, London
Source: Oxyman/Wikipedia
The cast-iron K6 thrived far past its anticipated discontinuation date, and it wasn't until the 1980s that the booths faced replacement by the more modern KX series. Many of the old K6s were removed and sold at auction before the Department of the Environment and English Heritage stepped in and pushed to preserve in situ particular kiosks with historic relevance.
It was even suggested Doctor Who might trade in his Police Box for the by then more recognisable red callbox.
By the 1990s, BT had taken note of the nostalgia-obsessed British public's fondness for the ageing red boxes. It stopped replacing them and registered their design as a trademark.
Nowadays, the K6 still represents roughly 20 per cent of Britain's phone boxes. Payphone use has plunged by more than 80 per cent in the last five years, BT admits, and the majority of phonebooths lose the telco money, it claims.
That has meant ever more boxes being decommissioned. But instead of simply removing the boxes - which weigh three quarters of a ton each - BT has been selling decommissioned booths to the community for a quid a pop, under its Adopt a Kiosk scheme. This has seen villagers use booths for all sorts of functions, such as art exhibitions and local libraries.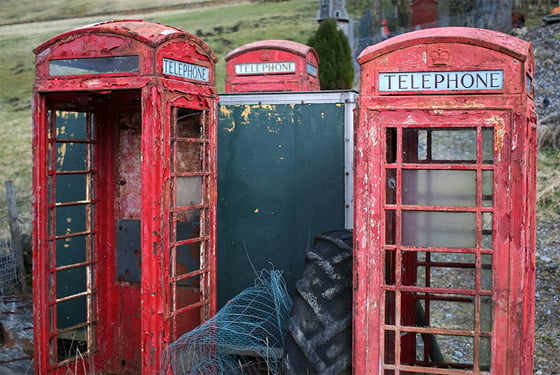 Source: Andy Armstrong/Wikipedia
To commemorate the anniversary, BT has donated a K6 kiosk to the Design Museum for permanent display - hopefully one in better nick than those pictured above. It's set to feature in the museum's exhibition This is Design, which kicks off today.
With 11,000 K6 models still scatted throughout the country, everyone knows you don't need to go to a museum to stand in one. However, Londoners may find it's the only phonebooth in the city that hasn't been put into service as a urinal or to advertise the amatory services of ladies of ill repute.
Happy birthday, K6. ®