VW Scirocco BlueMotion Technology TDI 140
A green GT for the working man
---
Review Style, practicality, economy and sporting performance - not necessarily aspects of the car makers' art you would expect to find all combined in a single model. But that's what you'll get with the arrival of a new generation of rather desirable but also extremely frugal diesel coupés from the likes of Renault and Volkswagen.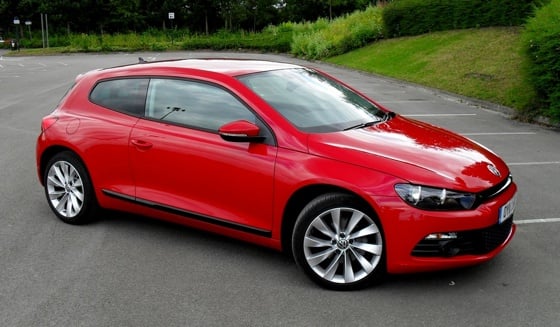 Its haunches give it a purposful stance
VW's new planet-cuddling Scirocco is a "BlueMotion Technology" vechine rather than a true BlueMotion car. The latter is a distinction reserved for cars that have been environmentally fettled to within an inch of their lives with revised gear ratios and modified bodywork in a quest to improve fuel consumption and minimise noxious gas emissions.
Do that to a sports coupé and what you end up with won't be much of a sports coupé any longer. Hence the 'BlueMotion lite' makeover.
VW has given the 2.0 litre turbo-diesel engine a quick once-over in the name of economy and fitted a start-stop system. The BlueMotion Technology pack also adds regenerative braking to help keep the battery charged for all that extra engine cranking.
The multifunction computer is another part of the package that has been eco-tuned. Now it suggests when to change up a gear in the interest of saving fuel.
Thankfully, what you don't get are wind-cheating but ugly-as-sin wheel trims, low rolling-resistance tyres or bodywork changes that make your car look like something that was used in Children of Men so the Scirocco BM has the same coefficient of drag as the rest of the range: 0.34.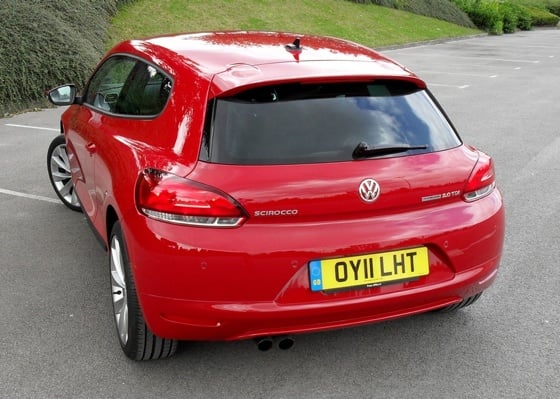 A bit globular from the rear?
The start/stop mechanics work a treat even with the six-speed manual gearbox my review car came fitted with. Once the 'box is in neutral and the clutch out, the engine switches off. As soon as you depress the clutch, it fires back up.