VW Scirocco BlueMotion Technology TDI 140
A green GT for the working man
---
Range extender
That said, the system flashed up an "unavailable" sign rather more often than I would have expected, perhaps a sign the battery was struggling to meet demand.
All those changes improve fuel consumption from 55.4mpg to 62.8mpg on the combined cycle, and lower CO2 emissions from 134g/km to 118g/km over the outgoing model. They also drop the BlueMotion Technology Scirocco down two tax brackets, into band C.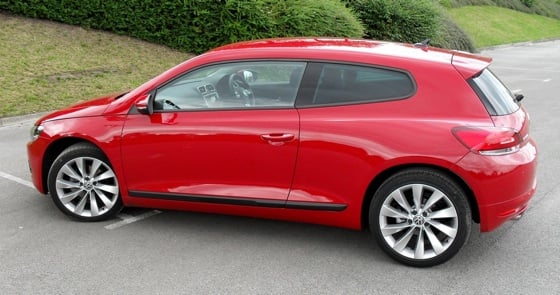 18in Interlagos alloys as standard
Get the Scirocco out on the motorway and even at a fair bit over the legal limit you will see mid-50s miles per gallon. Combine that with the 12-and-a-bit gallon fuel tank and a cruising range of 650 miles is on the cards, key to getting between points A and B quickly rather than wasting time queuing behind dunderheads buying their groceries at the petrol station.
The diesel four-pot is a little on the noisy side at start-up but soon settles down to a more smoother and more pleasant hum once it gets up to temperature. While it lacks the immediate thump-in-the-back of the 2.0 litre turbo petrol engines in the Scirocco range, it's still a sufficiently solid performer.
With 138bhp on tap the 0-60 sprint takes a somewhat leisurely 9.3 seconds but the top speed is an autobahn-friendly 129mph. Once rolling, the Scirocco makes more of a sporting case for itself because the engine's 236lb-ft (320Nm) of torque is spread evenly across the rev range and is available from 1750rpm.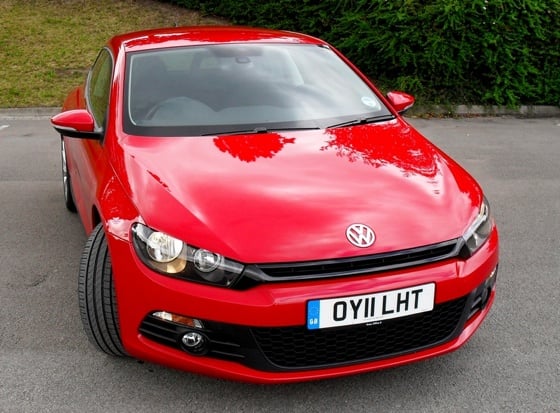 VW family nose looks good on Scirocco
Pressing on in the Scirocco is all about surfing that wave of torque to surge past the inattentive and the timid. It's something that's made all the easier by the short throttle action and slick six-speed box. Why anyone would cough the up the extra £1300 for the semi-automatic DSG transmission is a mystery to me, especially as it actually reduces economy and increases CO2 emissions.
Underneath the Scirocco's curvaceous exterior - which I happen to like even though many folk think the back-end a bit bulbous – there is a fair bit of Golf GTi DNA and the odd bit of Passat - the rear axle, for instance - but there is absolutely nothing wrong with any of that.