VW Scirocco BlueMotion Technology TDI 140
A green GT for the working man
---
Hitting the sweet spot
The chassis is more than capable of dealing with the available power - after all, the Scirocco R has to cope with nearly 265bhp, though admittedly it has a more advanced electronic differential. Even without the trick diff there is still plenty of grip and the steering is very well balanced. In handling terms, it's the best front-wheel drive diesel I've driven.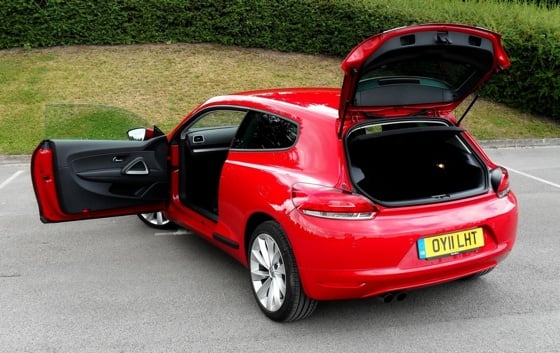 Frameless doors and a high boot sill
VW has also hit the sweet sport between handling and ride comfort, vital in a car that is as much an everyman GT as a sports car. Activated by a button on the centre console - in just the wrong place for those of us sitting on the right-hand side - the Adaptive Chassis Control lets you alter the damper and steering settings between Comfort and Sport with a Normal setting in between.
You really need to be paying attention to spot the differences between the three settings in everyday use so I'd suggest reserving Sport for track days, Comfort for motorway driving but otherwise leaving it in Normal.
Surprisingly, the Scirocco doesn't suffer too much in comparison to the three-door Golf when it comes to internal space. The rear seats are very heavily sculptured so I was able to get all five-foot 11 of me in the back, pull the drivers seat into the usual place and still have an inch clear in front of my knees.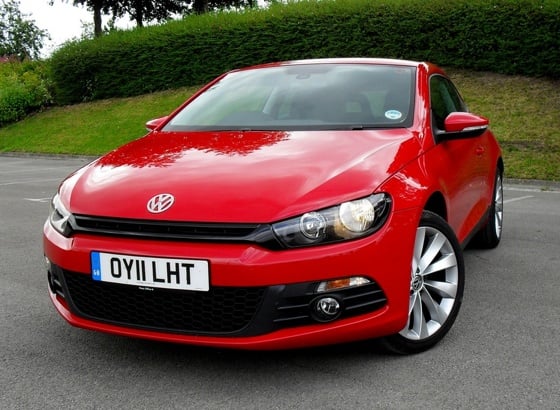 A good looker in the right colour
The boot is also deep and capacious, though it's usefulness is hampered by a very high loading lip. The only real disappointment is that Bluetooth phone integration isn't standard even with the optional 6.5in touchscreen satnav and entertainment system packages. If you want it - and, let's face it, these days most drivers do - it's a £250 option. It should come as standard fit across the range.
Verdict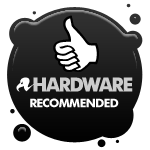 After a week with the Scirocco BlueMotion Technology, I'm finding it difficult to come up with anything in the way of serious criticism. Despite being configured with high economy and low emissions in mind rather than out-and-out performance, the Scirocco is still an enjoyable car to drive. Yes, driving a turbo-diesel in a spirited manner on B-roads involves a little more in the way of forethought but that just makes it different from a petrol car, not worse. ®
More Car Reviews

Lexus
CT200h
hybrid
Volvo S60
DRIVe
Peugeot
508 Active
e-HDI
Ford
Focus
Fiat
500
TwinAir

VW Scirocco BlueMotion Technology TDI 140
As a stylish, comfortable, entertaining and economical way to cover long distances at speed,the Scirocco BlueMotion Technology takes some beating.