The Home Secretary is expected to face fierce opposition from popular social network outfits today when she will ask them to consider restricting access to individuals in the aftermath of unrest in England earlier this month.
Theresa May is meeting with wonks from Blackberry, Facebook and Twitter, following evidence that, according to the Home Office, showed such messaging services were used to "coordinate criminality".
The Home Office said that the talks would help the government decide whether it should be able to cut off access to such online tools when individuals are caught inciting violence on social networks.
May's department didn't blame the likes of Facebook, Twitter and Blackberry's BBM service for being the cause of such disturbances as those that broke out in Hackney, Croydon, Birmingham and elsewhere for four days earlier this month.
But it did argue that the messaging services had been used to enable "criminals to communicate."
That's a claim which has already been shot down by an initial study of a database containing 2.5 million riot-related tweets that apparently demonstrates Twitter at least had many more reactionary posts to the unrest than messages calling on people to go out and loot shops.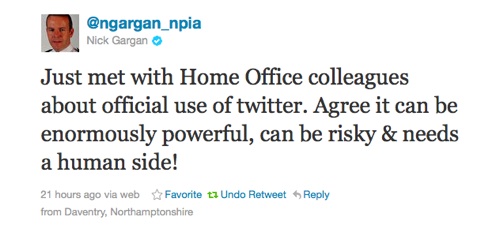 UK's national policing improvement agency chief tweets about Twitter
A similar analysis of Facebook and Blackberry's BBM is yet to surface, however.
Both of those networks have been routinely cited in recent weeks by cops and courts who have cuffed and, in some cases, sentenced individuals to harsh terms for witlessly using such services to incite violence – even when their attempts were unsuccessful and only police turned up.
"We are working with the police to see what action can be taken to prevent access to those services by customers identified as perpetrators of disorder or other criminal action," said the Home Office on Wednesday.
Meanwhile, privacy activists and human rights' campaigners – including the Open Rights Group, Amnesty UK and Liberty – have written a letter to May in which they urge the Home Secretary to take a much more considered approach to what the collective sees as a knee-jerk reaction to the riots.
"First, we express serious concern about any such review of powers made in haste without proper consideration of the effects on legitimate communication, freedom of expression and privacy," reads a statement on the Open Rights Group website.
"Second, that such reviews must take place transparently with details of the meetings with communications providers made public as soon as possible.
"Third, that any such review must proceed through a genuine multi-stakeholder process, involving not only communications providers but groups such as those representing citizens' rights such as freedom of expression and privacy."
Twitter and Blackberry declined to comment ahead of today's meeting with the Home Office at lunchtime today. Facebook hadn't got back to us at time of writing. ®