This article is more than 1 year old
Cambridge Audio Sonata NP30 hi-fi streamer
Hi-res, networked musical box
Review Sound quality isn't always the first consideration in the world of digital music, where songs tend to be compressed for convenience, rather fidelity. That's where Brit hi-fi brand Cambridge Audio hopes to make its mark with the NP30 (Network Player 30), which offers better-than-CD hi-res 24-bit audio playback for music files and Internet radio over your home network.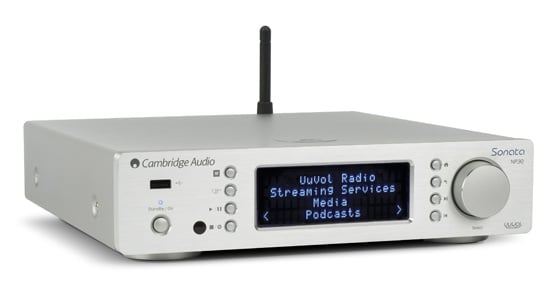 Cambridge Audio Sonata NP30
Lacking an amp and speakers, the NP30 has been designed to fit in with the company's swish-looking Sonata range – such as the AR30 amp (and CD30 and DVD30) – but it can be connected to virtually any set-up using its standard stereo analogue outputs. You can also use digital S/PDIF and optical outputs for connecting to higher quality DACs and there's a trigger connection that allows the NP30 to automatically power up when the amp it's connected to is switched on.
Unlike similar devices such as Sonos or Squeezebox, the NP30 is a native 24-bit player with a built-in 24-bit/96kHz Wolfson DAC, which puts it well above CD's 16-bit/44.1kHz resolution and firmly in the hi-fi category. While you can stream full 24-bit files using the on-board Wi-Fi, Cambridge Audio recommends using the Ethernet connection, so there's less chance of interference, though I didn't notice any when testing.
As well as getting the music off your computer, Cambridge Audio's UuVol streaming service offers over 20,000 Internet radio stations that you can sort by the usual location and genre, and search by name. Using Uuvol's web portal you can also search by bitrate and add non-UuVol stations too.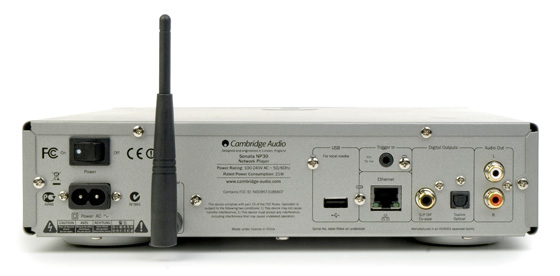 Wi-Fi on-board, but streaming using Ethernet is recommended for 24-bit audio
It also offers additional streaming services with BBC iPlayer (radio), Live365, Aupeo and MP3Tunes and you can access podcasts too, at least from the BBC and BlogTalkRadio. There's no Spotify, Napster or Last.FM yet, but CA says they're negotiating for licences now. You can also play back tracks from a storage device from its USB port.