Acer has let slip that it will announce a super-skinny notebook of the type chip giant Intel is calling an "ultrabook" at the IFA consumer electronics show.
Emailed invites to the IFA press conference don't mention the U-word, but the text of the message itself does.
As you can see from the snap below, Acer promises the gadget will offer "minimum" design, weight, thickness and "delay", but "maximum" style, portability, cool and "possibilities".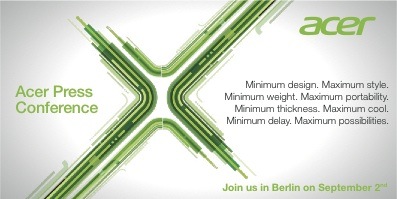 That would seem to suggest a MacBook Air clone, complete with SSD and Sandy Bridge Intel chippery but not optical drive.
We'll bring you more details next week from IFA. ®