Google dumps TV flop on UK
US users spat out the Chocolate box
Be still, beating hearts! The expensive flop that embodies Google's difficulties in working with the media industries is coming to the UK. Eric Schmidt is expected to make the announcement at the annual Edinburgh TV festival that a consumer product will launch within the next six months.
In the United States, where free-to-air television is of low quality, Google TV initially caused great excitement. But flagship US manufacturer Logitech recently scrapped the product, selling off remaining stock in a firesale.
Google's as a TV platform provider was always going to be difficult; internally executives admitted that its YouTube service was a "rogue enabler of content theft". But Google TV flopped because Google didn't really like TV in the first place, and certainly didn't understand why people watch it. The box was fundamentally a computer first, with a TV output that displays on a big screen.
As one of the (few) favourable reviews put it, Google TV is "[at heart], a text-based search engine that hasn't been conceived to deal with the complexity and massive volume of web video."
Others wondered how it was ever released by the Chocolate Factory in the first place.
"Google TV is basically unusable," Matt Millar of Tellybug told us. "Any system that requires you to move a mouse pointer around a TV screen will fail".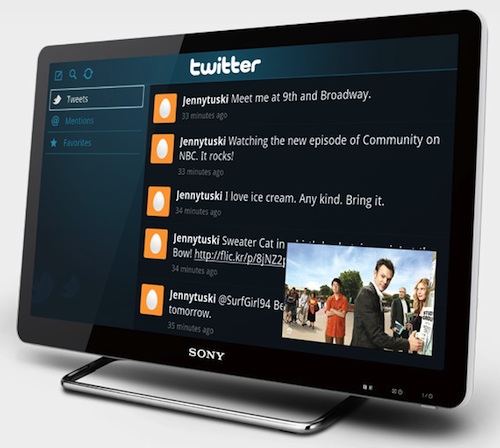 Just what you want on your lovely plasma TV: Web2.0rhea
"People have more than one screen in their home. TV is universally and probably for the next 20 years the single best output screen in the home and it comes with huge advantages for immersive content. And any attempts to turn it into an input device will fair utterly," says Millar, whose Tellybug product aggregates web chunterings about TV in real-time.
This Web2.0rhea, made on Twitter and social networks, is created made by people using laptops, phones or fondleslabs – the "third screen" in the jargon. That's also the approach being adopted by the startup from former iPlayer lead tech Anthony Rose, Zeebox.
"The focus should be on delivering great content. Strangely enough, FreeView is along the right lines – as are some cable operators," says Millar.
Given Google's tech heritage, we might have to wait until version 3.0 for a usable box. But for negotiating deals that keep copyright holders happy, Google is about the last name you'd come up with. ®