Forget about your Ivy League/Oxbridge/Harvard business school education, your connections or how many millions in personal funds you can plough into the business: the one thing you really need as a CEO is a big face, at least according to a new study to be published in journal Psychological Science.
Elaine M Wong of the University of Wisconsin-Milwaukee and her colleagues analysed photos of 55 male CEOs of publicly-traded Fortune 500 organisations and found that chiefs with a wider face, relative to face height, had much better firm financial performance that those with narrower faces. (And if you're wondering why this only applies to male CEOs, it is because the whole fat-face thing only works with men – apparently it has something to do with testosterone levels.)
According to Wong and her team, launching this study wasn't completely out of left field, because previous studies had shown big-featured guys were more prone to aggression, seen as less trustworthy and felt more powerful – and they thought these attributes could be a winning combination for CEOs.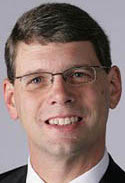 Good ratios: Rory Read,
CEO of AMD
"Most of these are seen as negative things, but power can have some positive effects," she said.
Obviously, the Reg couldn't help a little completely unscientific application of these conclusions considering the two new CEOs in the techie stable: Tim Cook at Apple and Rory Read at AMD.
AMD is looking good with Read, since although he's not really got a big face, he hasn't really got a very long face either, so the width-height ratio is probably good.
But Cook is definitely sporting some height there and with those slimly-defined cheekbones, could Apple be in trouble? But no wait, he's practically Jobs' face twin, they're both rocking that lengthy angular look, and Jobs seemed to do OK. Could it be that the concept is not infallible?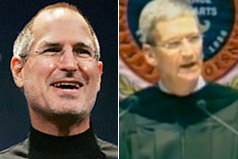 Steve jobs (left) and Tim Cook. Separated at birth?
Well, actually, it could. Wong's team found that the way top management felt could interfere with the effect of the head honcho's huge countenance. Teams that took a simplistic view of the world, in which everything is black and white, are thought to be more deferential to authority, so the CEO's face-shape-mojo worked. Big heads are less important in companies where the top managers see the world in shades of grey. ®