A host of new features for Android
Other handy features you won't find in stock ROMs include "phone goggles", which requires you to confirm certain predefined outgoing communications to prevent accidental calls or texts; a rather good sound management suite called DSP Equalizer; an incognito web browsing mode; a full install of OpenVPN; and a system-wide "quiet hours" setting to keep your phone silent as required.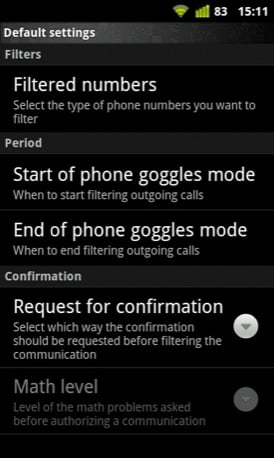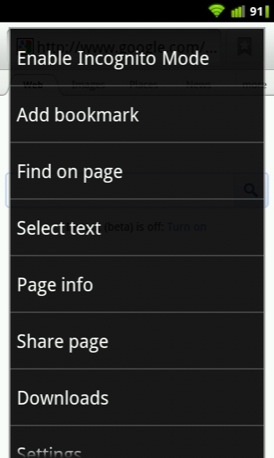 CM7 adds useful tweaks like Goggle (left) and private browsing (right)
There are also some rather well thought out minor UI mods like the option to replace the battery charge graphic with a percentage indicator and to remove the time from the status bar altogether.
Pull the status bar down and you get a user-definable control panel to manage more than a dozen system settings. Not a unique concept, I grant you, but this is by far the most versatile incarnation of the 'quick settings' idea I've encountered.
The CRT TV-style on/off flash when you put your handset into standby or bring it out is a fun graphical tweak that serves no use whatsoever but will amuse your friends.
On a more serious note, the CM7 settings menu will let you fiddle with things Google for good reason don't want you fiddling with - like the clock speed of your CPU. I tried bumping the San Fran's 600MHz chip to the maximum indicated 806MHz and everything froze, necessitating a reboot. At least no permanent damage was done by any of my 'what does this button do?' activities.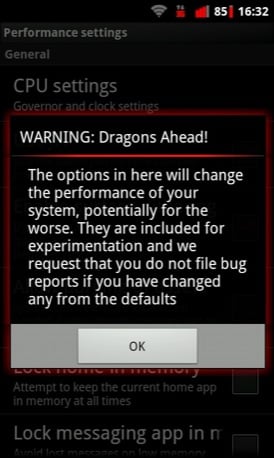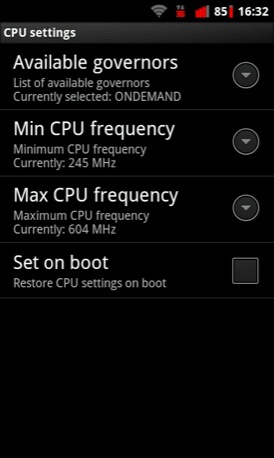 A warning (left) before you mess with the CPU (right)
There is also an option to force apps to install onto an SD card but I had mixed success with this. Basically, apps that officially support SD card installation worked fine but most of those that don't didn't.
CM7 uses ADW Launcher as it's stock launcher and though it may lack the simplicity of my personal favourite, Launcher Pro, there's no denying it's fundamental versatility. Under it's auspices you can add or remove home pages, change the dock, remove app names and generally fiddle about to your heart's content.
Similar topics