Russian rocket flub threatens to empty ISS
Current residents must come down. New ones can't go up
---
NASA has announced that there's a good chance that, come November, the International Space Station will be uninhabited for the first time in a decade, but the US space agency says not to worry. Much.
"We know how to do this," NASA's ISS manager Mike Suffredini said at a Monday press conference, according to Space.com. "Assuming the systems keep operating ... we can command the vehicle from the ground and operate it fine, and remain on orbit indefinitely."
The problem, as all space-watchers know by now, is that the Russian Progress 44 (aka Progress M-12M) space truck crashed in Siberia last Wednesday shortly after takeoff on a Soyuz-U rocket – substantially identical to the Soyuz-FG launch vehicle that ferries Russia's personnel-carrying Soyuz capsule to the ISS.
Progress 44 was carrying 2.9 tons of a wide variety of supplies and equipment, all of which was lost.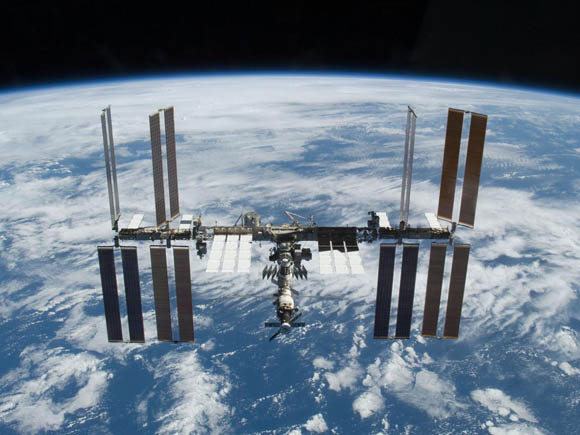 The International Space Station may soon be as empty as a foreclosed home (click to enlarge)
There are currently six astronauts aboard the ISS. They are in no immediate peril, as they have supplies sufficient to last while they're in orbit. According to the head of the Russian space agency's manned-missions department, Aleksey Krasnov, there are enough supplies on the ISS to last six people for three months.
There are currently two Soyuz capsules docked with the ISS. Three of the six current ISS residents are scheduled to return to earth in one in September, and the remaining three in mid-November. The capsules are supposed to stay up and docked no longer than 200 days – the first group's 200 days run out in mid-October, and the second group faces a similar deadline.
However, the Russian space agency announced on Monday that the first crew-replacement flight has been postponed until at least late October or early November.
If then, that is. A Russian commission is investiigating the Progress 44 crash, and as Krasnov notes: "The date of the launch will be settled after the commission finishes its work."
The commission may have its work cut out for it, as the traditionally workhorse Russian space program has seen an increasing pace of problems recently: six spacecraft have been lost in four foul-ups during the past nine months.
The Russian space agency has reported that the Progress 44 failure was due to a malfunctioning gas generator in the Soyuz-U's third-stage engine, but that doesn't explain why a Rokot booster failed to lift a military satellite into a geosynchronous orbit on February 1, or why a Proton-M booster rocket lost three satellites in December and put a communications satellite into a useless orbit less than two weeks ago, a screw-up that prompted the grounding of the Proton-M fleet.
Of course, these flops could all be merely a string of bad luck, but rumblings within the Russian government and space community suggest a more systemic problem: the agencies involved are adrift and underfunded.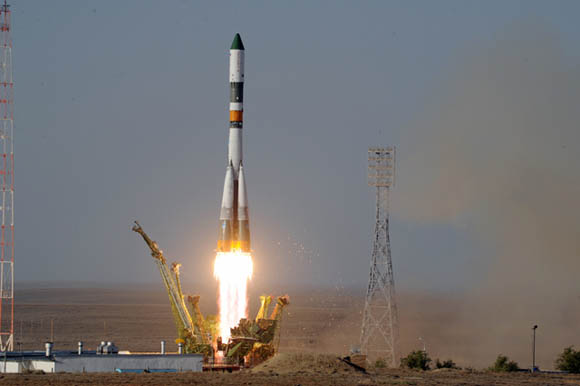 The Soyuz-U carrying the Progress 44 failed 5 minutes and 20 seconds into its flight
"We have failed to achieve even the most basic things, such as making sure that the salary of a space engineer is higher than the salary of a cell phone salesperson," complains Igor Lisov, editor of Russia's Cosmonautics News. "If we don't achieve that, any attempts to ensure a good work ethic are doomed."
Whatever the cause, if Russia can't get its Soyuz act together soon, those six astronauts – actually, three astronauts and three cosmonauts – will be coming home before their Soyuz-riding replacements can keep the ISS's streak of unbroken human habitation going.
According to both the Russian space agency and NASA, a crew-less ISS can stay up there, circumnavigating the earth for a good long while – unless something goes wrong that requires the ingenuity and hands-on presence of a human being to sort out and repair.
"If you look at ... risk assessments," NASA's Suffredini said on Monday, "some of the numbers are not insignificant. There is a greater risk of losing the ISS when it is unmanned than if it were manned. That's why, when we made our decision after the Columbia accident to keep the station manned, that is exactly why, because the risk increase is not insignificant."
How long that greater risk might last will depend upon the Russians, and not on NASA. And, yes, as might be expected in the current US political climate, someone at NASA's Monday press conference did ask if the Russian failure will cause increased criticism of President Obama's space policy. ®