VMworld 2011 In a tech tease at the VMworld extravaganza in Las Vegas, VMware CTO Steve Herrod gave a sneak peek at two projects aimed at giving end users "universal cloud access".
The first one is an enterprise-grade, centrally controlled file sharing dropbox called Project Octopus. IT departments want to control who has access to what data and for how long - this is, in fact, a big part of the job description - and with end users increasingly hot-dogging cloud-based file and data sharing services, VMware thinks it is time to rein them in.
"This is a big inconvenience for us all," explained Herrod in his keynote address on Tuesday, referring to file sharing, "and it is a big security headache for IT."
Not only that, but a lot of the files that are created and shared by employees are just sitting there, gathering dust and taking up disk capacity that might be used elsewhere. According to surveys that VMware has done, 80 per cent of the files that companies keep as part of their day-to-day operations aren't accessed after two years. So not only will Project Octopus centrally store and manage access to your files – as well as who can access them from your control list – it will also have features that will automatically nuke the files on the central store once a file has gone beyond its expiration date.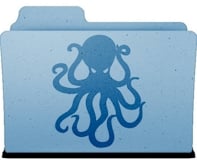 Presumably the Project Octopus dropbox will have a setting that will allow a file to be stored indefinitely, and knowing the human condition as we do, we know that most people put the "keep forever" setting on their own files because they are, of course, special. So it is unreasonable to expect that very many files will actually be auto-nuked from disk drives. But it is a nice thought – even for a company like VMware that is owned by a disk array maker like EMC.
Project Octopus is using data-synchronizing technology from VMware's Zimbra email server and the Mozy file backup service that was transferred from parent EMC to child VMware back in April. At the time, Mozy had 70,000 business customers and more than 1 million consumer users, and had over 70PB of files scattered across a number of data centers around the globe.
Octopus seems to rely more on Zimbra technology, and specifically on the distributed object store underlying the email server. VMware says that Project Octopus will be available for deployment on premises or through the cloud, and will not require companies or service providers to buy the Zimbra mail server.
The file-managing cephalopod will have native clients coded for Windows and Mac PCs, plus iPad and Android mobile devices as well as a Web client that currently plugs into Firefox browsers. Octopus will have hooks into the Zimbra email client, the View desktop virtualization stack, the Horizon App Manager, and another project that was in tech preview today called Project AppBlast.
Project AppBlast, which was demonstrated running Microsoft Excel within an iPad browser at the VMworld event, will allow any browser or device supporting HTML 5 to run native, non-browser applications.
"It is quite disruptive," said Herrod, but he didn't say much about what it is.
In a blog post, Scott Davis, CTO for end user computing at VMware, said a little bit more about what it is.
"The core technology is standards based and utilizes various HTML 5 mechanisms," Davis wrote. "Because it leverages a standards based foundation, multiple VMware innovations can be used to further extend the capabilities and end user value. All while enabling rich application experience access over HTML 5."
It stands to reason that AppBlast will be driven by the View VDI stack and provisioned by the Horizon App Manager, but VMware has not said this.
No word on when either Octopus or AppBlast will be ready for prime time. ®
Similar topics