So you bought an Apple Magic Trackpad at launch, but you've found you never use it - yes, we're thinking of you, Bob. Now it doesn't have to gather dust.

It sounds like an April Fools gag, but Mobee, the guys behind the induction charger system for Apple's Magic Mouse, have launched the Magic Numpad in August.
The acme of simplicity, it's a set of numberpad and other key overlays - and ships with a special pen so you can draw your own - that stick onto the otherwise unwanted Trackpad.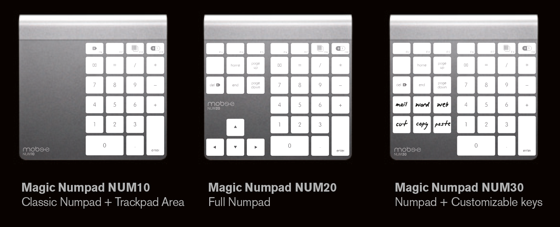 Accompanying software translates your taps into key-press events you applications can respond to.
Actually, the software is set to be distributed free of charge through the Mac App Store, so you can rig up your own Magic Numpad for nowt using some clingfilm and a permanent marker, we reckon.
There's no word on UK pricing and availability - Mobee's seller here is Softline - but the Magic Numpad will cost $30 (£18) which it goes on sale in the States at the end of October. ®