Review Many years ago, a family friend who at the time flew for the United States Air Force gave me a personal tour around a Fairchild A10 Thunderbolt and said: "Y'know, Al, she ain't a plane she's more a gun with wings."
Something similar could be said about the Scenic Bose Edition which isn't so much a car as a stereo system with a tyre at each corner.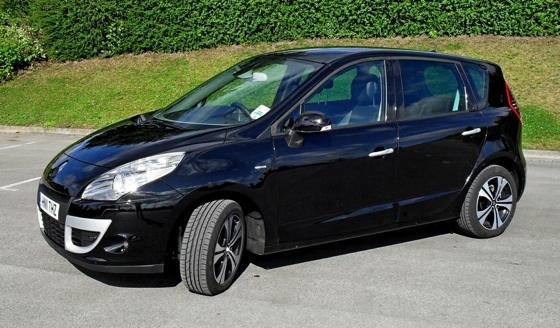 Bose-black suits the design
In every way, the new Bose Edition is the pinnacle of Scenic evolution. Not only does it come with the sort of stereo you simply don't find in cars of this class but it also has an integrated TomTom navigation pack, the latest turbo-diesel stop/start drive train and a styling pack that comes close to making it look like a car you would actually want to buy rather than have to because of untamed fecundity.
Since the Bose hi-fi is the main reason the Scenic is sat in Reg Hardware's secret underground car park, let's start with that. The system consists of nine speakers, a sub-woofer and a digital amplifier. If you are wondering where all that kit goes the schematic below shows where everything is stashed.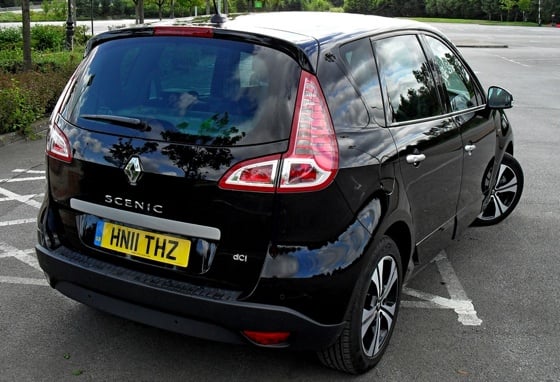 Looks OK from the back
Apparently, the system is 30 per cent smaller, 40 per cent lighter and uses 50 per cent less energy than "comparable" systems, though Bose could have made 20 per cent of those statistics up. Renault isn't saying what the system's power output is but, whatever the number, it's seriously loud.
And the impressive volume is matched by the audio quality. Everything sounds rock solid, extremely detailed and immensely composed. After many hours of listening, I can honestly say it's just about the best sounding stereo system I've encountered in anything on wheels with a price tag the sensible side of £50,000.
All that Bose audio gadgetry also makes the Scenic Bose one hell of a speakerphone when you have your handset connected to it over Bluetooth.