This article is more than 1 year old
Apple Store newspaper headlock may be slipping
No need to put up with Jobsian gouging, even in iOS
Comment There was praise aplenty last week when Steve Jobs stepped aside as Apple CEO. Jobs was lauded as the saviour of newspapers and the man who halted the "inevitable" trend towards unpaid or low-paid production of free digital media. But like the Marshall Plan aid, the Jobs Plan aid came at a very high price.
Newspapers don't need a saviour, for it is perfectly possible for newspapers to save themselves. Nobody forced newspaper publishers to give away their material for free. Or to bow to the now thoroughly discredited idea that premium content must be given away on the internet at marginal cost. The evangelists demanding this, as James Murdoch correctly pointed out, were simply out to build parasitic businesses on their backs, while peddling a utopian vision based on wishful thinking, not economic reality.
But similarly, newspapers need not follow terms set out by Apple, and this week one of the most important publishers refused to knuckle under and was ejected from the party. It may be the best thing that ever happened to it.
Apple insists on a 30 per cent cut of recurring subscription revenue, from all content companies, not just magazines and newspapers. Apple blocks companies from the Apple App Store if they dare direct potential subscribers around this tollbooth to a more complicated web signup form. Many publishers have complied, but Pearson's Financial Times, which already has a successful online subscription business, objected.
Native apps have many advantages over web pages. The reader gets optimised content and cached offline content. The scope for creative design and presentation here has barely begun. In turn, the publisher gets knowledge of the reader and is able to build a direct commercial relationship, in theory at least. But in practice, Apple doesn't share this information. Nor does it allow publishers to choose their own advertising services: they must use Apple's. And since Apple maintains a stranglehold over App Store distribution – and relatively few dare to jailbreak their iGadgets – publishers' native apps must toe the Jobsian line.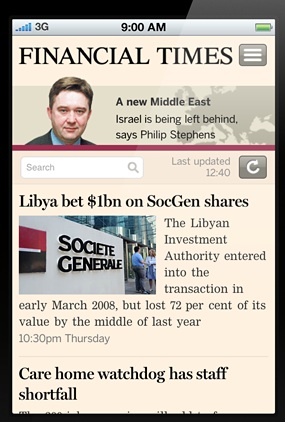 The FT's non-App Store web app.
The FT's solution was to stretch this line to breaking point – to see what it could get away with, basically – while building a rich website in HTML5 that had as many features of a native app as possible. This you can access from here.
Apple has now expelled it from the App Store, and where the FT leads, others may follow.
Why is Apple's determined to screw 30 per cent out of media companies for recurring revenue? That's easy to answer: because it can. This is a mutually agreed contract, and Apple can, right now, ask for 30 per cent because the App Store looks to publishers like the most promising source of new digital subscribers. There's a lot of enthusiasm around the iPad in (according to the utopians) a declining market, and new readers are a rare and welcome thing.
All this can change quite quickly. An HTML5 app may today just be a glorified bookmark, but it might have much more functionality as HTML5 matures. There's nothing Apple can do to stop publishers distributing them from the web, or even better, a neutrally owned pseudo-app store. What's really changed in the past two years isn't the iPad, but the realisation of publishers that they can ignore the utopian windbags, and charge for something. The trick is to price it well and make it attractive.
The Jobs media tax looks like an outrageous act of greed today, but it may be a temporary windfall for Apple. ®