This article is more than 1 year old
Samsung Tocco Icon budget mobile
Vocal style
Review While smartphones grab the headlines and an ever-increasing slice of the market, cheap 'n' cheerful feature phones that focus on the basic job of communicating have had to raise their game. Indeed, the Tocco Icon builds on Samsung's Tocco Lite, upgrading the touch screen from resistive to capacitive and adding Wi-Fi.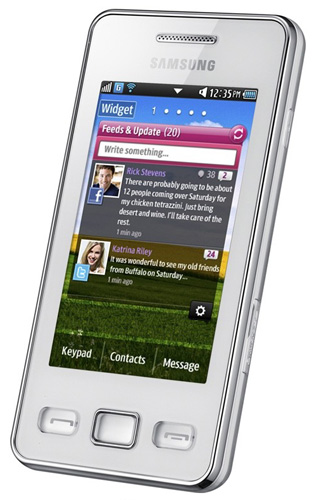 Samsung's Tocco Icon: looks more swish than it actually is
It measures 108 x 54 x 12mm and weighs 94g, making it a very neat, pocket-friendly handful and it sports a classy look with its glossy black plastic surrounded by silvery chrome-look trim on the front, and silver-coloured plastic on the sides. Beneath the screen are call start and stop buttons flanking an outsize menu button, which might look like a D-pad, but it's not.
On the sides are a volume rocker, start/sleep button and a microSD memory card slot covered by a flimsy plastic grommet. On top are a 3.5mm headphone jack and a micro USB power/sync slot covered by a sliding door. In common with recent, more expensive models from Samsung, the back is a very thin plastic sliver, which helps to keep the weight down and has spaces for a loudspeaker and the 3.2Mp camera lens.
The 3in touch screen offers 240 x 400-pixel resolution – some distance behind what's available on higher-end Samsungs, such as the 480 x 800-pixels found on the Galaxy S II – and while it looks reasonably bright, it's distinctly soft on detail and sharpness. Sensitivity-wise it's certainly better than the resistive model, but it's noticeably less sensitive than Samsung's pricier screens.

Slim and lightweight too
The user interface is Samsung's TouchWiz 3.0, which may not offer the breadth of Android, but has quite a few handy nick-nacks of its own, including a series of widgets that you can add to each of the three screens by pressing the 'widget' button in the corner. There are shortcuts for Google, LinkedIn and e-mail, as well as a clock, calendar and Buddies Now, which shows what your favourite contacts are up to.