Winning features?
Although the Tocco Icon has Google Maps on-board, there's no GPS nor 3G but you can get fast Internet access using its Wi-Fi connection. There's an accelerometer too, so the screen will flip into landscape mode when you turn it on its side – better for browsing, and it offers a full Qwerty keyboard too. There's no multi-touch facility for zooming though, and the keyboard's a mite too titchy for easy input.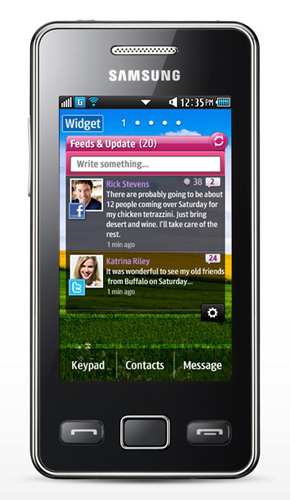 For undemanding users, it does the job and looks the part
Call quality is satisfactory but the speaker is a little tinny, causing voices to sound a bit thinner and more brittle than they really should. It's not terribly loud either. There's only 30MB of onboard memory available, but you can bump that up to 16GB with a microSD card. The battery holds up pretty well though, delivering close to three days of regular use.
Verdict
The Tocco Icon is a perfectly adequate feature phone that looks a bit pricier than it is and includes a decent media player and camera. Web browsing is painless so long as you can get Wi-Fi access, given the lack of 3G, it's painfully slow without. It's really not a bad handset, but considering you can get a budget Android for a similar price, its appeal is rather limited. ®
More Budget Phone Reviews

Vodafone
Smart
HTC
Salsa
Nokia
C1-01
LG
Optimus One
Motorola
Defy

Samsung Tocco Icon budget mobile
Update on the Tocco Lite feature phone adds a capacitive touchscreen and Wi-Fi connectivity.