Review WHDI really can send HD video across a house at 1080p resolution and without compression. But for the same money you could get a pair of Blu-ray players, so you've got to really care about streaming that content.
The technology was demonstrated at the CES event in January - and see Reg Hardware's WTF is... wireless HDMI - but now it's about to hit the shelves in the UK from multiple brands. I tested a generic dongle and receiver, manufactured in Shenzhen using chips from the standard's main backer, chip maker Amimon. Expect it to appear in the UK any day now branded by SAC Electronics and similar.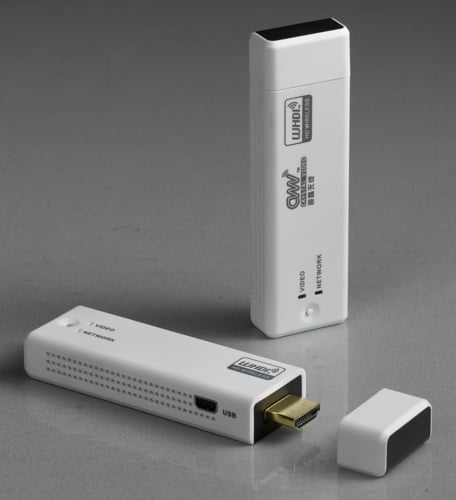 The transmitter dongle needs a dedicated power supply, fed into that mini USB port
The box comes with two components: the dongle, which hangs out of a player's HDMI port, and a router-sized box which one connects to the display device - TV, projector, etc - by HDMI. Both ends support HDMI 1.3 and HDCP. There's a weighted stand to hold the receiver vertically.
Hopefully, you like the upright Wii look in your electronics, otherwise you'll be blocking the vents on the side of the box as it lacks the usual rubber feet. That said, I ran the receiver flat on a table for an hour or two without any sign of overheating. But the manual states it should be kept upright to improve reception, so it's best to get used to the vertical look.
The dongle, on the other hand, did get hot - uncomfortable to the touch, even. But given the way it sticks out the side it's not easily touched. If you're used to Wi-Fi dongles then this is a monster, jutting out 80mm from the side of the laptop, it's also more than 20mm wide.
Worse, the dongle also needs a separate power supply which comes from a mini USB connection. A very short cable is supplied, as it's only expected to reach to the side of the same laptop, or to a USB port on the back of your Blu-ray box.