Two heads are better than one: Cisco and EMC's VCE joint-venture is moving forward with a chairman and a president, but no CEO.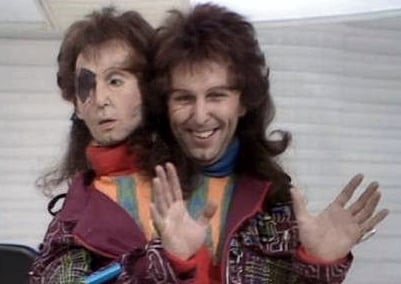 Mark Wing-Davey plus realistic-looking second head play
Zaphod Beeblebrox in the TV adaptation of Hitchiker's
Guide to the Galaxy.
VCE makes the converged IT stack Vblocks based on Cisco UCS servers and Nexus switches; EMC VMAX or VNX arrays; and VMware hypervisor software.
Its CEO and chairman used to be Michael Capellas. VCE spokesman Bob Wambach said:
Michael's role has not changed. He remains in charge of the long-term strategy, vision and success of VCE. Since Frank Hauck joined VCE in April as president, he has focused on running VCE's day-to-day business while Michael has devoted most of his time to strategy/planning, customer and partner meetings, and alignment with parent company CEOs John Chambers and Joe Tucci. In recognition of how Michael and Frank team to lead VCE, the CEO title is no longer being used and was recently removed from the VCE.com website as was noted in your article and other postings.
So the CEO role is being shared, it seems, between Frank Hauck and Michael Capellas, and VCE is not headless at all.
We hear from a laid-off VCE person by the way, that the Cisco originator of the Vblock concept is no longer at VCE and neither is the Cisco staffer who ran VCE's service provider and channel sales operation. ®
Similar topics