Baidu produces cloned Android, web apps etc
Anything Google does, we do better - behind the Firewall
---
Baidu has forked Android, launching a mobile OS at its annual shindig which also saw the Chinese search outfit slotting web apps into its home page to go with its Chrome-alike browser.
Baidu has taken a leaf out of Google's book before, and "Baidu Yi" (as the new mobile OS is called) is at least based on Android code, unlike Baidu's desktop web browser, which is simply a shell wrapped around Microsoft's Internet Explorer. Android is open source, so Baidu has forked it to create its own version with its own bundle of applications on top.
Baidu Yi provides much the same functionality of Android, along with the single sign-in that ties the user to the search engine's services including mapping, cloud synchronisation, music download service and (of course) search.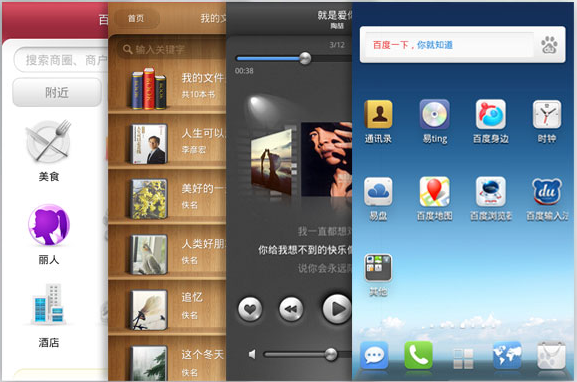 The web app platform also looks like Google's offering, with AJAX applications being downloaded and installed for local execution, but is based on Baidu's IE wrapper rather than Google's Chrome.
There's a lot more information on both the mobile OS and web apps on the official Baidu site and Techweb respectively, including screenshots and video, but as it's all in Chinese we're again grateful to Penn Olson for the translation.
Google does operate in China, but after the Chocolate Factory refused to implement government-mandated self-censorship it was forced to locate its servers in semi-autonomous Hong Kong. For users in mainland China, those servers now produce amazingly slow and buggy search results, almost as though the flow of data were being deliberately throttled, as it demonstrably is in some instances.
Android is popular in China, among device manufacturers as well as users, but the limited access to Google's service already requires substitutions to be made to bundled applications so Baidu's alternative will likely prove popular for that reason if no other.
Baidu certainly has aspirations outside its home turf, and when it spreads we're sure it will be bringing its own mobile OS with it. ®