Domino's to serve pizzas on the Moon, apparently
'Perhaps you think we're foolish. Maybe we are'
---
Despite the fact that man has stopped going to the Moon, Domino's Japan reckons this is a good time to plan an outlet there.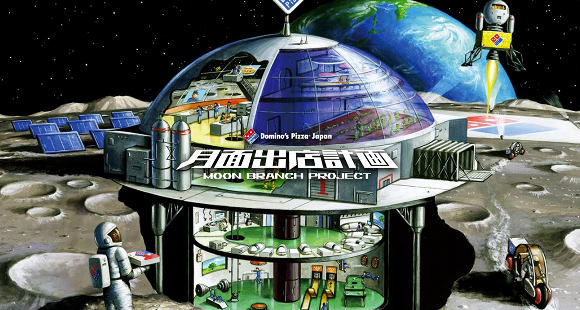 An artist's impression shows the restaurant with a two-storey dome and a basement level made of steel plating where the pizzas will be prepared. Staff are expected to sleep in the building...
Dodgy-looking artist's impressions of the dome restaurant abound at moon.dominos.jp, which is mostly in Japanese, apart from a video featuring Domino's Japan president Scott K Oelkers announcing the project, wearing a full spacesuit with a lovely Domino's patch.
"Perhaps you think we're foolish to take on such a challenge, and maybe we are foolish, but we have a dream and that dream is to deliver our Domino's pizza on the Moon," he said, after the futuristic space music had faded.
"Right now, with the cooperation of businesses and enterprises that possess the technology, we are driving forward our project to open a store on the moon."
The video also features some seriously strange motivational rhetoric about how good it is to have a dream and frequent references by Oelkers to his "fellow Earthlings", leading to the suspicion that this may be one of those crazy marketing stunts Japanese companies are so fond of.
Domino's Japan in particular seems to enjoy a good headline-grabbing stunt, having hired someone to deliver pizza for one hour last year at a salary of Y2.5 million (£20,092). Not to mention its Pizza Tracking Show, which let hungry customers register to see the progress of their pizza in real-time up to delivery.
However, legit or not, the plans are pretty elaborate, with the website's construction section stamped by an actual company's logo, Maeda Corp, and even estimates of how much the project is to cost, an impressive Y1.67 trillion (£13.4bn).
Around Y560bn (£4.5bn) will be need to carry 70 tonnes of construction materials and pizza-making equipment to the moon aboard 15 rockets, according to the Daily Telegraph, and the company will also try to keep costs down by using mineral deposits on the moon to make concrete at a cost of Y194bn (£1.5bn).
"We started thinking about this project last year, although we have not yet determined when the restaurant might open," Tomohide Matsunaga, a spokesman for Domino's Japan, said.
"In the future, we anticipate there will be many people living on the moon, astronauts who are working there and, in the future, citizens of the moon," he added.
Domino's UK press department thanked The Reg for its interest in the story and directed us firmly to Domino's Japan and its moon website, while Domino's US said it had no further information as "this is only taking place in Japan, not in the US." ®