Hands on with the Samsung Galaxy Note
Definitely a big phone, not a small tablet
IFA 2011 Samsung's Galaxy Note Android Gingerbread-based device is undoubtedly an oddity. The South Korean giant claims it brings the best of the smartphone world - cellular comms, a relatively compact casing - with the best the tablet offers: a big (ish) screen.
Whether you agree will depend on whether you see the value in a notepad-style machine that has a big enough display to view content clearly and to jot notes on but won't tug on the pockets the way a 9in or 10in tablet will.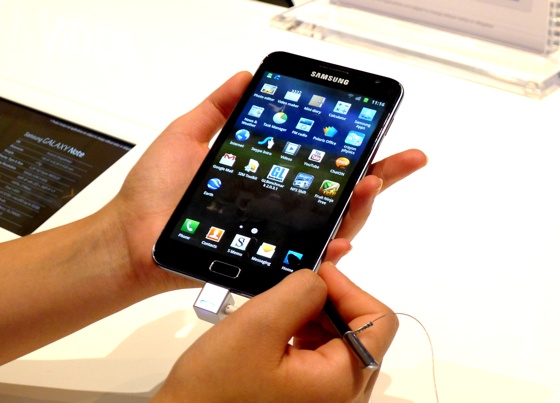 Big phone or small tablet?
Of course, you may well say the opposite: the Note is too big for a phone and too small for a tablet. The Note's 5.3in OLED screen runs to 1280 x 800, and it is wonderfully crisp.
That's a higher spec than you get on phone, and the Note is clearly much bigger than a phone too, even one with a 4.3in or 4.7in screen. But the Note is nice and thin so it's not uncomfortable to hold. The edges curve round to the back in a manner very reminiscent of the original iPhone.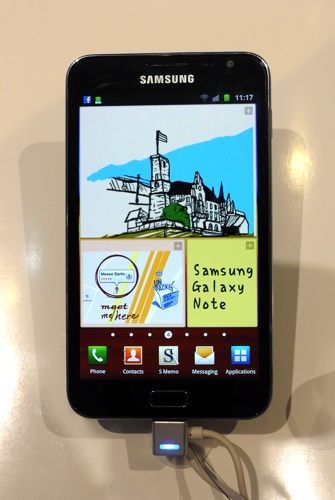 That gadget didn't come with a stylus, but this one does - it slots into a bay at the base of the Note.
It's the nylon-tipped stylus that gives the Note its digital scribble-pad quality. Jotting notes, and sketching charts and pictures does feel more natural when you use a stylus rather than your finger.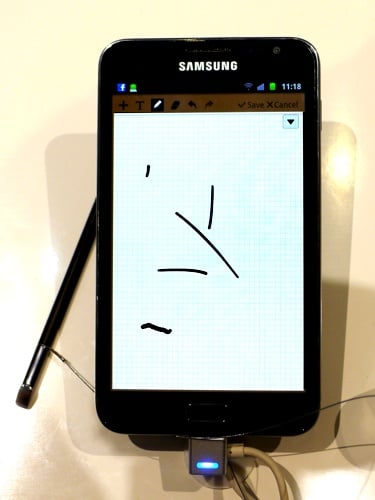 The pen has a button, a press of which takes a screenshot. Samsung reckons users will be grabbing such images left, right and centre, cropping and tweaking them in the Note's easy-to-use photo editor app, and email the results off with pen-jotted annotations.
"Very useful for businessmen," said the lass who gave me a guided tour of the device, before finishing off the demo with an app created by enterprise data management software specialist SAP.

The Note is a full phone, though it feels slightly odd when held up to your ear - it's just too large. A Bluetooth headset solves that, though calling up contacts one-handed is tricky unless you have an unusually long thumb.
But this is a tool for folk who need a bigger phone screen than most handsets provide. Think of it as a big phone, not a small tablet, and it makes sense.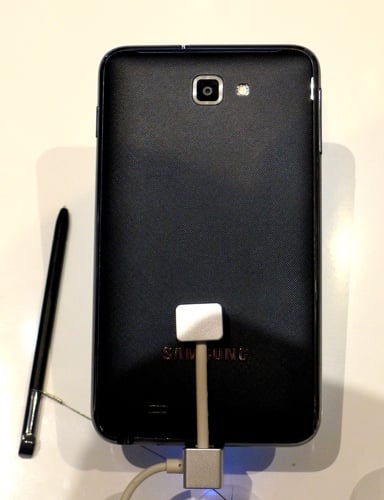 The camera on the back is 8Mp
There ought to be room in the market for such a form-factor. It won't suit everyone, of course, but it will suit someone.
I could see myself using such a gadget as an e-book reader, for instance, one way more portable and pocketable than my iPad but requires less squinting than my phone's screen does. Or I could just carry a regular e-book reader around.
One-handed thumb typing is do-able but not ideal
And that's the difficulty for Samsung: persuading potential buyers they can carry the Note around instead of two or more other devices. ®