First look at Toshiba's Portégé Z830 Ultrabook
The executive's choice?
IFA 2011 Toshiba was keeping its Portégé Z830 under glass at IFA, so while we couldn't pick it up and click away, we could at least get some snaps and make some initial observations.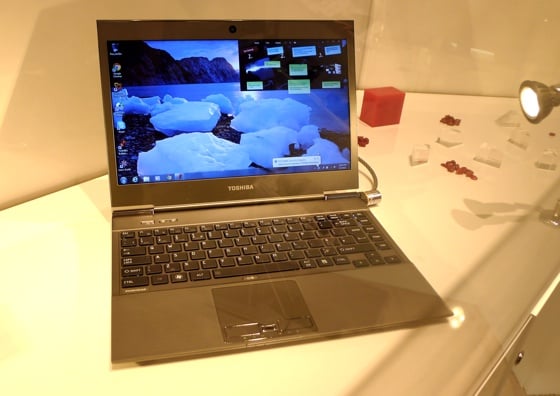 Toshiba's Z830: the conservative user's Ultrabook choice?
Where Acer has accepted that Apple's MacBook Air was the clear inspiration for Intel's Ultrabook spec, and designed its machine accordingly, Toshiba has adopted its usual slightly dry, business-sober design strategy, producing a machine that's not unnattractive but no head-turner either.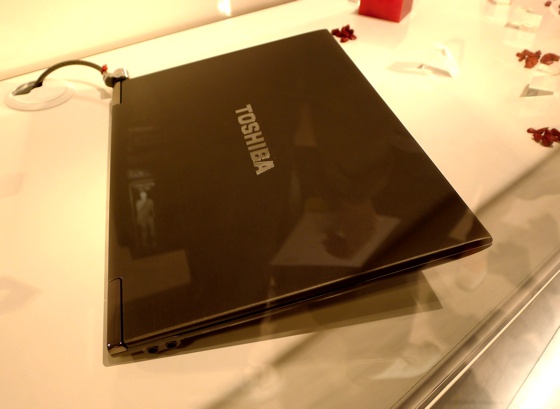 Indeed, Toshiba seems deliberately tried not to go down the Apple 'design above all' route. Yes, the Z830 is not as pretty as the Air or Acer's Aspier S3, but it has three full-size USB ports, Gigabit Ethernet and HDMI - the latter arguably more useful than the Air's DisplayPort connector.

The Z830 has a mic port, as well as the usual 3.5mm headphone jack and SD slot
So it's a smidge thicker than the other Ultrabooks we've seen so far, but more functional.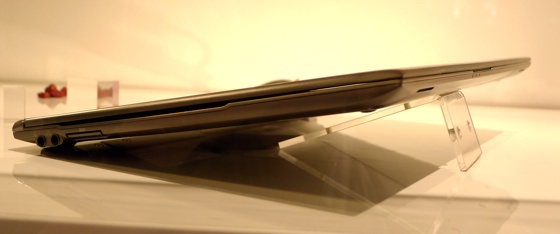 Less than 18mm thick
Not bad for an ultra-skinny machine that's set to be very portable indeed. Clearly, I couldn't judge the Z830's weight, but if it has the same kind of magnesium alloy chassis as Toshiba's past thin'n'light PCs, plus what's clearly a plastic case, it's not going to strain your muscles overly.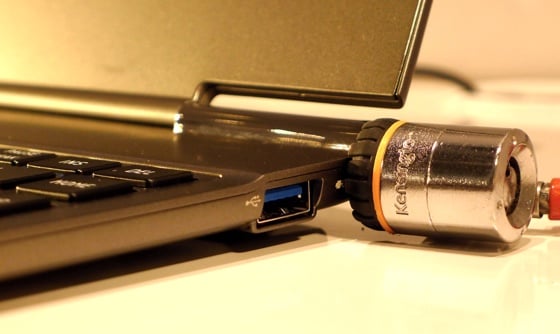 There's a USB port and the inevitable Kensington slot on the right side
Lighhtweight laptops encourage people to carry them more casually, though, and it'll be interesting to see if the plastic Z830 is more or less resilient to drops, knocks and bumps than the metal clad Air and S3.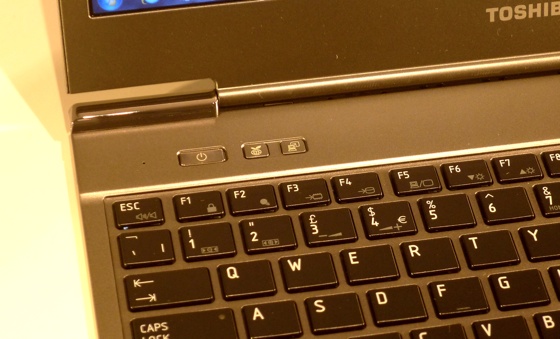 Toshiba opts for a raised lid hinge and incorporates its now customary low-power "Eco" button
Toshiba hasn't talked pricing yet, and we suspect the Z830 won't undercut the S3 and probably not the Air, either, at least not when it comes to models with Air-alike specs. Toshiba could surprise us, but the Z830 seems so aimed at an executive audience, we can't really see this machine being prices for consumers.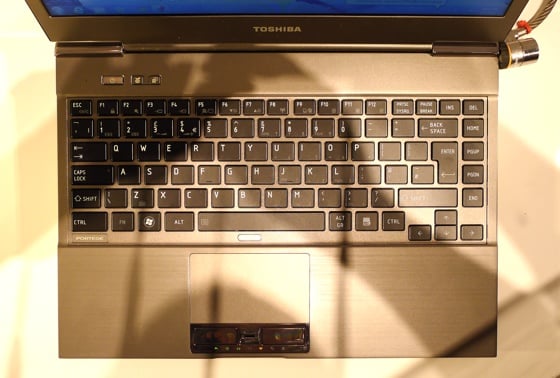 A full-size keyboard, and a left-shifted trackpad.
But only Pro-oriented machines will have the fingerprint sensor
And, as with the S3, we'll have to wait to see how the Z830 performs and how well whatever capacity of lithium-polymer battery Toshiba has put into it will last. Likewise whether the battery is removable and other components are easily accessible.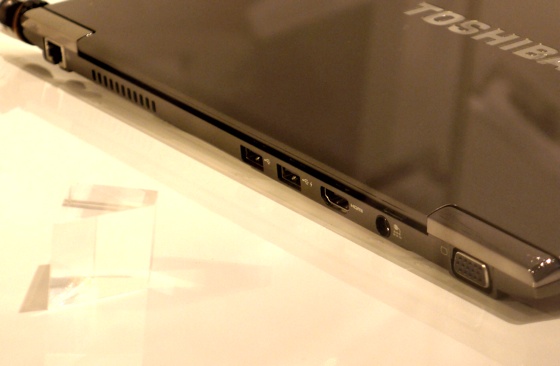 Ethernet, VGA, HDMI and two more USB ports on the back