New NASA site offers solar system and time travel
Mission data from 1950 to 2050 for your viewing
---
NASA is making many a child's dream come true by letting the public take a trip through the solar system – and you don't even have to leave your living room.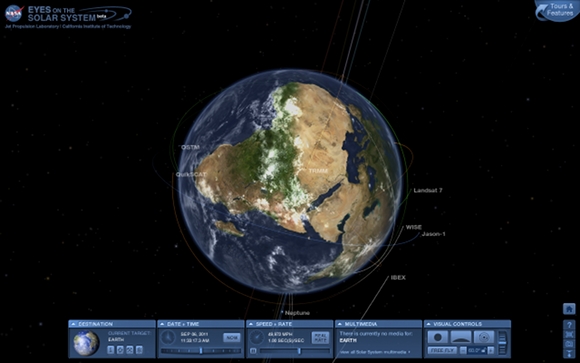 NASA's new site: Eyes on the Solar System.
The space administration is putting actual mission data on an interactive website, Eyes on the Solar System, which lets you "journey" around our local cosmos.
"This is the first time the public has been able to see the entire solar system and our missions moving together in real time," said Jim Green, director of NASA's Planetary Science Division.
The site has data dating back to 1950 and projected to 2050 so users can experience missions in real time from different viewpoints, including onboard the spacecraft. There are also videos to explain how to use the whole thing, a necessary addition as a quick play here at The Reg demonstrated that the "dozens of controls" on the tool definitely convey the complexity of space missions.
Eyes on the Solar System will be updated over the next few months with NASA science missions including GRAIL's trip to the moon and the Mars Science Laboratory Curiosity rover. ®