Analysis Amazon's first tablet, according to reports, is designed entirely around getting stuff from Amazon. The first hands-on (no pix) report indicates that it's a fork of Android, heavily customised to run a colour Kindle app – and provide access to Amazon's other services. Like the eInk Kindle, the all-colour Kindle tablet will be a shopping application in hardware.
Two things are interesting about this.
The first is that Google's competitors have lost their fear about using Android as a stick to beat it with. Android was supposed to be a new platform for Google's advertisements and services, which would justify giving it away for nothing. It was expensive to build and maintain, with zero licensing revenue coming in – but was a little gift to the world. And certainly cheaper than Google getting into building phone hardware itself. Er, so how's that coming along?
The gift has turned into a weapon, wielded against Google itself. Android has become a masochistic hobby.

Baidu is Google's fiercest competitor on the planet, with a ruthless home advantage that makes Google's genteel US competitors look like pussycats. Baidu's forked version of Android simply cuts out Google's services. And there's nothing Google can do to stop Baidu doing this. Google's masterful avoidance of the messy, ancient, very un-Googley world of telco hardware and network relationships ended with Google's acquisition of Motorola Mobile, assuming that meets regulatory approval.
So Google has created the platform on which more focused businesses than Google can rub home their advantages. It gives them a huge leg up. They're all closer to the customer than the ad-broker itself. They know who you are. Google doesn't.
I haven't seen an authoritative figure of how much Android development is costing Google annually, but I have heard $3bn touted, which seems plausible. That's a lot to pay to get beaten up. Now, some people pay money to dress in rubber and have the crap beaten out of them. But you must wonder how long Google wants to keep funding something more useful to others than itself.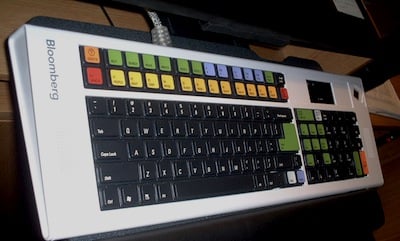 The future of computing? A Bloomberg Terminal keyboard
The second curiosity is how the concept of wrapping hardware around a service has changed. It is really what entertainment companies have done forever: a Sky box, for example, is a service wrapped in hardware. But for general purpose computing, or for information services, it was supposed to be an evolutionary dead end. Or we were told.
Once there were many: Prestel and Minitel boxes, and Bloomberg Terminals, were proprietary data services in a box. Then came the internet, open computing, open platforms, open protocols. But a horizontally segmented industry makes it difficult to create a successful system. Apple's success is now attributed to its ability to control hardware, and software, and services. And the "open" internet failed to lay the eggs promised. So many business sectors are now tempted to roll their own systems. At least they have greater security, simplicity, and seem to be able to coax the owner into repeat purchases.
That's the theory. If anyone other than Apple has succeeded, do let me know. Of course Amazon's tablet will do "the other stuff" – such as web browsing and email. And if Samsung's most recent Tab is the benchmark, it can do "the other stuff" quite nicely. But "the other stuff" isn't in itself enough to drive sales of iPad rivals. Perhaps a technicolor Kindle will be.
The idea of a shopping terminal seems very strange indeed, and may be a short-lived fad. No self-respecting techie would be seen dead with a "shopping computer". I wouldn't bet my house on it being a long-term trend. But I'm tickled how in less than a decade, so much orthodox new media business guru advice ("open platforms"... "new web business models") has been unravelled. ®
Similar topics