HP pops out all-in-one biz boxes
Touchscreen for corporate show-offs
---
HP has announced a pair of all-in-one PCs – one with a touchscreen display – that it hopes will remove any remaining barriers that prevent that unibody form and point-and-flick interface from finding a home on the business desktop.
The two new biz-centric all-in-ones met the public on Wednesday along with two consumer-level Omni series and a trio of TouchSmart series all-in-one PCs – but this is, after all, The Reg, so we're talking business.
HP's touchscreen-enabled business box has the company's typical name-and-a-half: the HP TouchSmart Elite 7320 All-in-One Business PC. We'll just call it the 7320.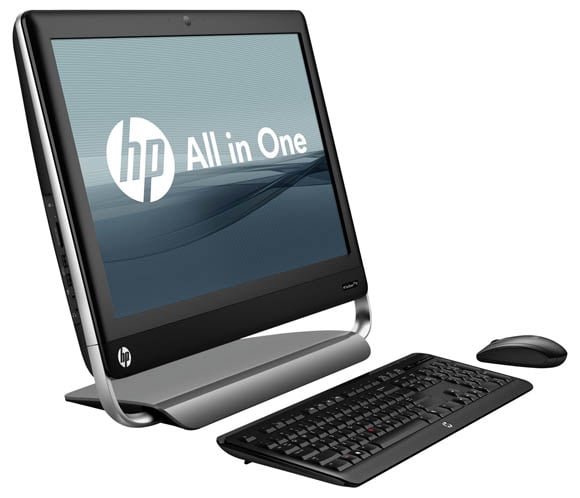 The HP TouchSmart Elite 7320 All-in-One Business PC (click to enlarge)
While you may think that adding a touchscreen to a business PC might be – no pun intended – pointless, HP design strategist Randall Martin begs to differ. "We have a full-touch machine that's really more for folks that are into the collaboration aspect," he says, "such as in a travel agency, or any kind of collaboration where you want to do more and share more with a client."
Seems reasonable. If you want to point your machine at your customers, you're the target market for the 7320 and its 21.5-inch, white-LED-backlit, twisted-nematic display, complete with an integrated handle on the back to make lifting and turning it easier that it might seem at first glance.
In keeping with its interactive, presentational role, the 7230 can be tilted from vertical to 30 degrees backward, and comes equipped with Dr. Dre's Beats Audio sound enhancement, along with what HP refers to as "high-performance stereo speakers" – although, of course, if you really want to blast your travel-agency customers with the sounds of Victoria Falls or some such, you'll want to hook up some externals.
Speaking of externals, the 7320 comes with a healthy assortment of ports: four USB 2.0 in the rear, two USB 3.0 on the side, stereo-audio line and headphone out, RJ-45 Ethernet, a 6-in-1 card reader, and a coax hook-up for an optional TV tuner.
Processor choices run the gamut from a dual-core Pentium to Intel Core i3, i5, and i7, and a wide variety of storage choices that range from a 5,400rpm 250GB 3.0Gbps SATA drive up to a 7,200rpm 2TB 6.0Gbps SATA drive – though no SSD options are available.
Also making its debut on Wednesday is the slightly more-concisely named HP Pro 3420 All-in-One Business PC. As the lack of the term TouchSmart in its moniker indicates, the 3420 is a more-traditional all-in-one PC – that is, one that you control with a keyboard and mouse, and not by poking and prodding.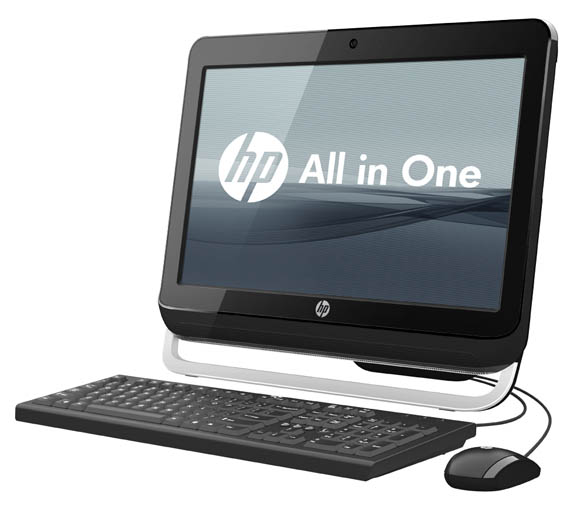 The HP Pro 3420 All-in-One Business PC (click to enlarge)
The 3420 is definitely the junior partner in this pair. Its processor choices are only a dual-core Pentium and a Core i3, it replaces the 7320's two left-side-mounted USB 3.0 ports with USB 2.0 ports – though, like its bigger brother, it provides four USB 2.0 ports on the back along with Gigabit Ethernet, a 6-in-1 card reader, and a single MiniPCIe x1 (half-height) expansion slot.
Its 7,200rpm, 6.0Gbps SATA drive choices max out at 1TB, and unlike the 7230's optional tray-loading Blu-ray combo writer, the 3420's optical options stop at an tray-loading DVD writer.
That said, the 3420's entry-level price is attractive: $599 when it becomes avalailable in October, compared to the 7230's $850 which it ships on September 21.
It wasn't that long ago when $599 would pay for merely the 3420's 20-inch LED backlit display. ®