Performance charts
As a desktop replacement it's heartening to see a good selection of ports. The right-hand edge of the dv7 has a pair of standard USB ports; the left-hand edge a pair of USB 3 ports. Those with external monitors are well catered for, with VGA and HDMI outputs. Pleasingly, for a computer likely to find its way into university dormitories, there are two headphone jacks alongside the 3.5mm audio-in socket. The front edge houses an SD card slot.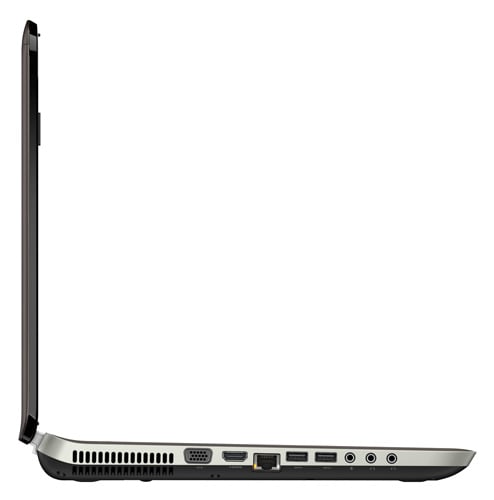 Four USB interfaces appear in total, including two USB 3.0 ports
If the outside of the dv7 is fairly workaday, the inside houses some interesting silicon. AMD has developed the Llano family of chips to put it in direct competition with Intel's Sandy Bridge Core i series. The AMD A4-3310MX dual core CPU is one of the first Llano chips to emerge and is among the lower performance incarnations, more akin to Intel's second generation Core-i3 processors.
Running at 2.1GHz, the A4-3310MX 32nm chip has 2MB of L2 cache and an AMD Radeon HD 6480G built in – this CPU/GPU combination is what AMD refers to as an APU - accelerated processing unit. Broadly speaking, Intel's latest Core i3, i5 and i7 offerings with their integrated graphics could also qualify as APUs.
The Pavilion dv7 is supplied with 6GB of RAM, which provides plenty of memory for the graphics chip to borrow from, plus more than enough spare to make light work of open applications.
Application performance from the A4-3310MX is good, rather than great, scoring 3919 under PCMark Vantage. Enough, certainly, to get through the majority of jobs likely to be thrown at it, if not quite as muscular as machines powered by Intel's Core i5 chips. Only those doing fairly intensive encoding jobs are likely to grumble and this isn't really the machine for number crunchers. Still, there were no real-world holdups using common applications, and the dv7 was perfectly smooth playing back full-screen HD video.
Benchmark Tests
PCMark Vantage Results

Longer bars are better

Battery life in Minutes
Longer bars are better
The integrated Radeon is all well and good, but it's a tad underpowered when it comes to gaming. With just 512MB of (shared) DDR3 RAM and a relatively low core clock of 444MHz, means it's better placed to shunt applications, rather than polygons, around the screen. For games, the dv7 includes a second, meatier piece of hardware, this time a Radeon HD 6490M with 512MB of GDDR5 RAM and a core clock of 750MHz. Tasked with running 3DMark 06 it returned a score of 5085. Adding a further factor to regard, AMD calls this particular dual graphics package of APU plus discrete GPU the AMD HD 6515G2.