This article is more than 1 year old
Seagate pulls out the biggest hard one in the industry
Mighty 4TB fatness plonked down on desk
Hot on the heels of Hitachi's terabyte platter drives comes Seagate's 4TB GoFlex Desk external drive, a terabyte fatter than the previous version.
It is the highest capacity hard drive in the industry and is a 3.5-inch SATA unit, spinning at 7,200rpm. Seagate is carefully not saying how many platters there are inside it. Has it actually managed to reach the TB-per-platter area density level it bragged it was ready to productise in May? At that time a 3TB GoFlex used a 5-platter disk drive.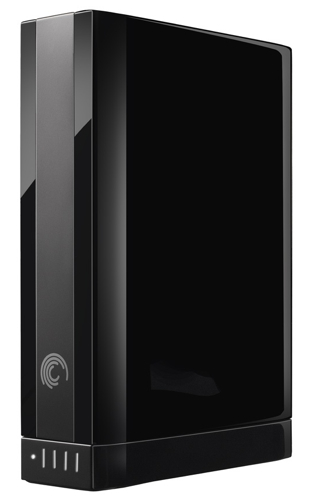 4TB Seagate GoFlex Desk
We suspect it has done it: built a 4TB, 1TB/platter drive, with a 625Gbit/in2 areal density.
A 4TB Barracuda can't be far behind, surely?
The 4TB GoFlex comes with USB3 support, plus cable. You can buy separate FireWire 800 and eSATA adapters. There is, as before, an illuminated capacity gauge.
Seagate says this GoFlex can store 2,000 high-definition movies.
It also sports a new minimalist industrial design: any colour you like as long as its glossy black, it appears. All the GoFlex products will change to this design.
The GoFlex drives have interchangeable adapters which cost extra. Seagate says a GoFlex Desk for Mac external drive, with both FireWire 800 and USB 2.0 will be available in Apple stores by the end of the month. It is making approving noises about Thunderbolt and we suppose it will be supported with a new adapter soon enough.
Automatic, continuous backup software, and encryption software, is included and the drive works with both Windows and the Mac OS. A home network adapter means it can be used as a network drive in the home.
It's available from www.seagate.com now and will be found at certain online retail sites in a month's time. The suggested price is $249.99, the same as the3TB GoFlex when it was announced. You can buy the older 3TB model for less than $140 now. ®