This article is more than 1 year old
The Reg dips toe into social media ocean
Majority pursuits
Today, The Register's official Twitter account http://twitter.com/#!/regvulture reached 5,000 followers.
OK, so no biggie and never let anyone say that we are pioneers in such things. But in mitigation we are quite a big website with thousands of active commentards, albeit mostly of the anti-social media kind.
Any ways, in recent weeks The Reg has gotten into a social media outreach groove.
For instance, last Sunday we manned the Tweetdecks to handle questions about and speculation concerning the site when Turkish hackers hijacked our DNS records from Netnames.
Also, we are getting into the Facebook schtick, setting up an official page at facebook.com/VultureCentral just a few weeks ago. Dilatory? Us?
About 650 people have found their way there. Do feel free to join us.
Bootnote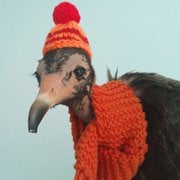 Meet Reg, our Twitter avatar.
Reg is, or was, a hooded vulture, and he resides in the reception area of our London office.
Our taxidermist told us that Reg used to live at London Zoo. But an enterprising hack who rang the zoo for confirmation was met with an outraged denial that it would ever sell deceased animals to be stuffed.
I don't know who knitted his scarf and hat. ®