Orange Monte Carlo budget Android smartphone
That Riviera touch
---
Review If during the last 12 months you wanted a cheap but decent prepaid smartphone there was really only one choice, the Orange San Francisco. But now its big brother is in town – the Orange Monte Carlo.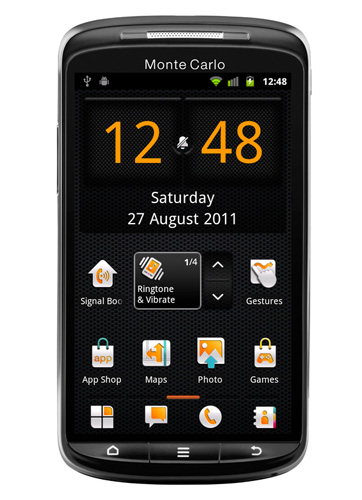 Orange's Monte Carlo: a good bet?
This is another handset from Chinese manufacturer ZTE that in its homeland is known as the Skate. The Monte Carlo boasts a 4.3in 480 x 800 screen, 800MHz CPU and Android 2.3.4 – evidently, Orange is attempting to put a high-end smartphone into the hands of PAYG customers for just £150.
Like the San Fran, the Monte's solid construction belies its price point. The body is made of glossy plastic and the smart uniform black is broken only by the side mounted faux-chrome volume rocker and power button, which, like the three system buttons below the screen, have a pleasantly damped action.
A 3.5mm audio jack is at the top in just the right place but the micro USB port is halfway up the right-hand side – it looks and feels wrong. The screen is plain old TFT LCD rather than OLED or IPS but it's sharp, colourful and supports decent viewing angles. The hitch is that it feels like it's made from plastic not glass and there is no oleophobic coating either, so it loses out in the tactile stakes to more expensive handsets.
To get the Monte down to price, something other than screen material qualities had to give, and that's the CPU. It's the same processor that appears in HTC's ChaCha. The 800MHz clock speed is reasonable, as is the 512MB of Ram but it's an ARMv6 chip so it's no powerhouse and you won't be playing Flash video.

Only 11mm thick, but looks chunkier than it is
Or any other sort of video beyond standard definition H.264, for that matter. As a video player the Monte sucks baboon nuts. The Snapdragon super-phone styling writes cheques the hardware can't cash. Run even slightly demanding apps and the lack of horsepower shows – Angry Birds for instance, is only just playable.