Accessory of the Week Yes, you can argue that compact cameras, especially premium ones, should have a viewfinder built in. But the fact is, they don't, and while manufacturers are so keen to pitch LCD sizes and resolutions, it seems unlikely that they will anytime soon.
Heck, even many compact system cameras lack a viewfinder.
Yet there are plenty of times when being able to frame a shot using a viewfinder is better than relying on the LCD. Bright light is the obvious one, even if you set your screen to a battery zapping maximum brightness.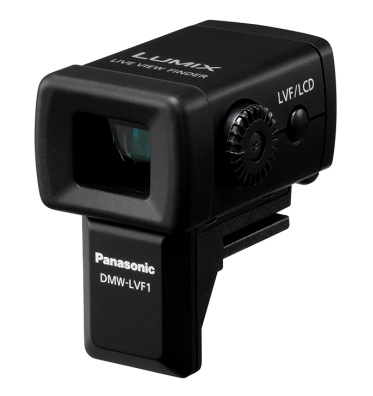 Panasonic's DMW-LVF1 clip-on viewfinder
I also find it easier to hold a camera steady if it's snug against my cheek while I peer through the wee window on top. It was a godsend while I was snapping away at the IFA consumer electronics show last week.
And, thanks to Panasonic's DMW-LVF1, I can do that with my viewfinder-less Lumix LX5.
The LX series has always had a hot-shoe, but the new model adds a peripheral port just below it, on the back of the camera. The result, you can clip in a range of accessories, including some designed for Panasonic's GF micro four-thirds cameras.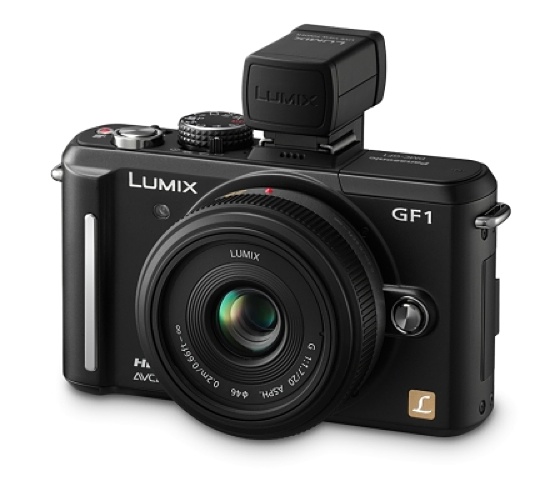 In situ, on a Panasonic GF1
The DMW-LVF1 is a case in point, providing an electronic viewfinder for viewfinderless cameras with said connector.
Its controls are limited to a tiny button that flips the camera's output from LCD to DMW-LVF1 and back again, and a focus dial for the viewfinder's own optics.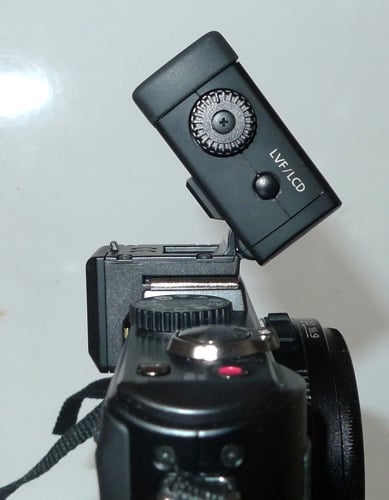 Cover all the angles
The DMW-LVF1 pivots just above the front of the hot-shoe through 90 degrees, so you can look down at the camera if you prefer.
You may not want the DMW-LVF1 clipped to your camera all the time, but it's certainly a handy addition to your kit. Keeping it on and using it doesn't appear to zap the battery any more quickly than using the LCD does.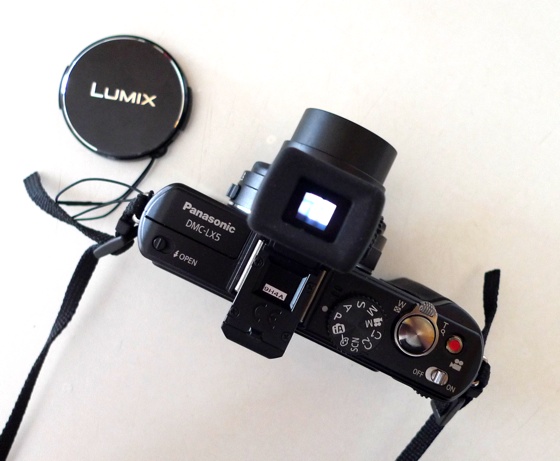 A camera to look down on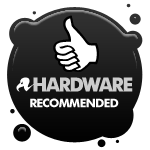 The only downside is the price. Panasonic wants a hefty £195, though you can find it for £150 if you shop around online. You can get a decent compact camera for that.
Still, photography was never a cut-price pursuit, and if you don't fancy the price, stick with the LCD. You'll need to if you want to use the hot-shoe for a flash, of course. But the DMW-LVF1 is undoubtedly a nice-to-have add-on that will please anyone who mourns the loss of the viewfinder from compact cameras. ®
Reg Hardware chooses its Accessory of the Week every Friday. Got one in mind you want us to consider? Please let us know
More Accessory of the Week Winners

Solwise
Net-3G-A10t
Vogel's
RingO
Motorola
Atrix
Lapdock
iLuv ICK826
iPad 2 case and
Bluetooth keyboard
Octovo
Solis e-book
Reader Lamp

Panasonic DMW-LVF1 clip-on viewfinder
Slide-on electronic viewfinder for Panasonic's GF series of micro-four thirds cameras, and the Lumix LX5 compact.