This article is more than 1 year old
Onkyo TX-NR609 AV network receiver
Multichannel maestro
Review AV receivers have made a concerted effort to keep up with TVs, consoles, set-top boxes and disc players in recent years by incorporating an Ethernet port to play your digital music collection over a network as well as internet radio and extras like Last FM and Napster.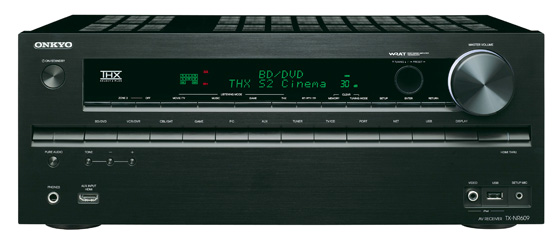 Double bass player: Onkyo's TX-NR609
Onkyo's current range also adds Spotify as a big selling point. You'll need a Premium subscription but that also gives you access to its higher quality 320kbps bitrate. A wireless USB dongle (UWF-1) is available separately if you can't run a network cable into the back of the unit.
The newest in the brand's 600 series of mid-range receivers, the TX-NR609 has pleasing, minimalist styling and, unlike models lower in the range, it adds PC/console RGB video connectivity, the user-friendly Audyssey auto calibration, THX Select2 Plus certification and outputs for up to two subwoofers, in case you're feeling ostentatious. There are six HDMI inputs with 3D compatibility, Audio Return Channel and a passthrough mode for one HDMI input when the receiver is in standby.
Its HDMI output carries 4K video upscaling, which unless you happen to run the local cinema, is beyond what most people need right now but it's reassuring to know it's capable of creating up to 2160 lines of vertical resolution. As it stands, its upscaling of video sources into conventional 1080p HD is well up to scratch.
A full complement of home cinema audio formats is supported, including Dolby TrueHD and DTS-HD Master Audio. There's also Dolby Pro Logic IIz for taking stereo or basic surround sound and polishing it for multichannel listening. This is of course optional, as is Audyssey's auto set-up and DSX processing, which purists might want to avoid (the manual set-up is relatively quick and easy too).