Hacker defaces Irish Catholic paper: 'Gotta love false hope'
'Continue believing in your false religion'
---
A security breach has left several sites including the Irish Catholic defaced.
Atheistic hackers defaced the paper's site at http://www.irishcatholic.ie/site on sunday with a message mocking religion that also fired barbs at a site admin.
The message, headed, You.Got.Taken (screenshot below), states: "The Irish Catholic - Ireland's biggest and best-selling Catholic newspaper since 1888 is currently hacked We should be back shortly. Thank you for your patience. And wish you to continue beliveing in your false religion."
"Gotta love false hope," it adds.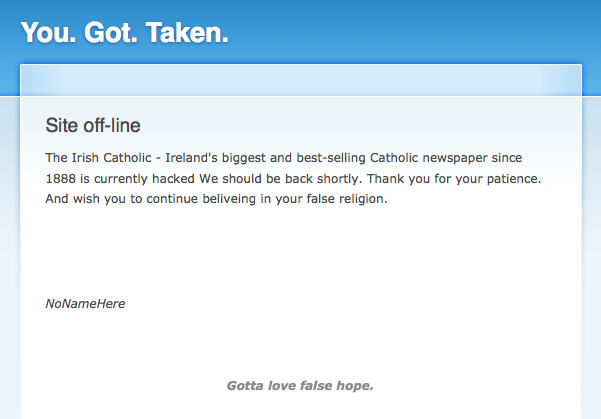 Unusually the defacement goes on to criticise the administrator of the site by name. "Get your act together. Several large sites on one server? Not a smart move Aidan Murphy. Watch your data." ®