Visual appeal
The screen itself is an absolute cracker. Decent resolution aside it uses in-plane switching and has a matt finish, so it works in just about any light and at just about any angle. It's very pleasant to the touch too.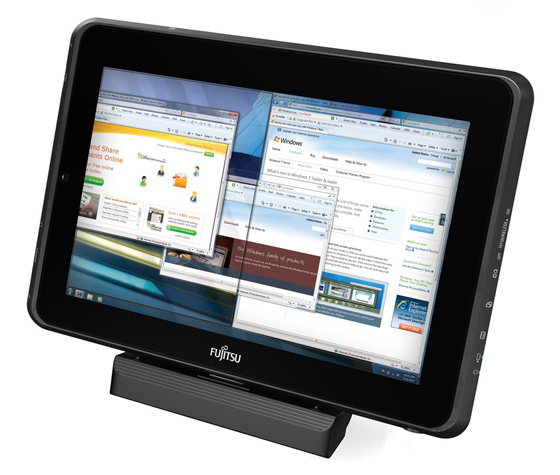 The dock is an optional extra but features interface expansion
This is the first time I've rubbed noses with the new Oak Trail platform, which, according to Intel, offers improved power management, 1080p video decoding, faster web browsing and support for HDMI. All well and good but we are still only talking about a 1.5GHz Atom CPU and even with 2GB of RAM everything runs depressingly slowly.
To underline this the PCMark Vantage benchmark suite returned a pretty grim figure of 1304, significantly lower than the 1687 managed by the also significantly cheaper Acer W500 Windows tablet. And don't forget the W500 has a Radeon graphics card while the Q550 makes do with Intel's integrated GMA600 GPU, hence the laughably bad 3D Mark06 score of 126. Roll on Cedar Trail.

Another proprietary dock slot
Turn off all the Aero effects in Windows and fiddle with the scroll bar widths and window sizes and the user experience improves a bit, but compared to the latest touchscreen UIs from Apple and Android, it's still difficult to use, turgid and frustrating in equal measure.
Fujitsu has at least acknowledged the unsuitability of Windows 7 as a touchscreen interface and tried to provide a fix by installing an N-trig digitiser in the screen and also bundling a digital stylus. This certainly makes Windows 7 easier to use – especially if you like writing on it and using OCR. This set-up also turns the Q550 into a graphics tablet.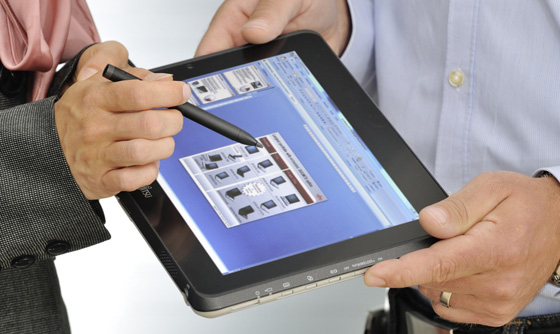 Actually, it's not that heavy as to need three hands...
Graphics tablets aren't my thing and I'm certainly no artist but even I managed to amuse myself using the ArtRage demo and Gimp, so I suspect this is a feature of the Q550 that will attract both interest and custom.