Pen points
It's a shame then that Fujitsu couldn't find room for a stylus slot. Leaving the pencil to dangle from a lanyard is a poor alternative, especially if you are left handed – the tether eye is on the right – where it becomes a positive menace. On the bright side, the digitiser layer has no discernible impact on the vitality of the screen and you don't forsake any multitouch functions.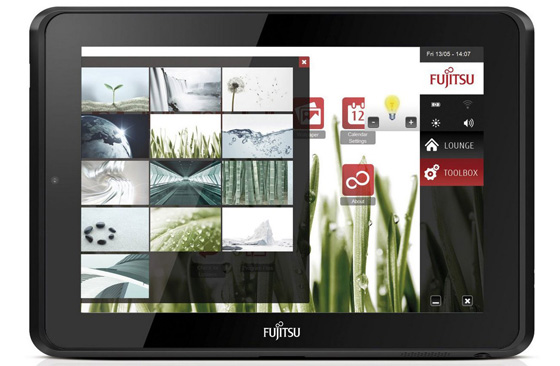 Well made, but Windows 7 can be a bit clunky at times
Another Fujitsu Windows 7 band-aid is the Infinity Lounge overlay, which drapes itself over the desktop and lets you key access settings and some Microsoft applications without actually having to finger Windows itself. A promised OTA upgrade will let you place shortcuts to any installed programme in the Lounge. When that arrives it may be worth using.
With a 4-cell 5240mAh battery I was expecting good things and wasn't disappointed. Loop an SD video at full-screen and you will run out of juice at around the 5 hour mark. In mixed and less exacting use you will get between 7 and 8 hours from a charge as long as you don't have the screen brightness turned all the way up. Incidentally, you can even swap batteries with this Q550 to extend operational time still further.
With no fan passive cooling is the order of the day. The benefit is total silence, the drawback a fair bit of heat build-up if you leave the thing running hard while, for instance, laying flat on a bed. By the end of the battery, test things had become quite toasty warm.
As is my wont with Windows PCs, I stuffed a Ubuntu instal stick into the USB slot to see what would happen and the answer was nothing. After the initial instal screen everything went threepenny-bits up and no amount of tinkering or yelling got me any further down the Linux highway. Incidentally, being Windows-based means that SysAds can lock out various ports and connectivity to prevent the terminally curious from compromising business security. Likewise, custom OS disc images can also be loaded onto the device.
Verdict
There's no denying that the Q550 comes with all the bells and whistles and the digitising kit will appeal to some but the fundamental gutlessness of the underpinnings makes it hard for me to give it an unqualified recommendation. I'm not even sure that business users won't get a bit impatient with the essential turgidity of the thing, though at least they won't have to cough up £800 for the privilege. ®
More Tablet Reviews

Samsung
Galaxy Tab
10.1
HP
TouchPad
RIM
BlackBerry
PlayBook
Lenovo
Thinkpad X220T
Ten…
Budget
Android tablets

Fujitsu Stylistic Q550 Windows 7 tablet
Smart, secure, well-made Atom CPU tablet that runs Windows 7.