This article is more than 1 year old
Skifta
Streams at your fingertips
Android App of the Week With so many connected devices now carrying a DLNA or UPnP sticker, shunting media from or through your phone – to a Wi-Fi enabled music player, telly or gaming console – is fast becoming an everyday requirement.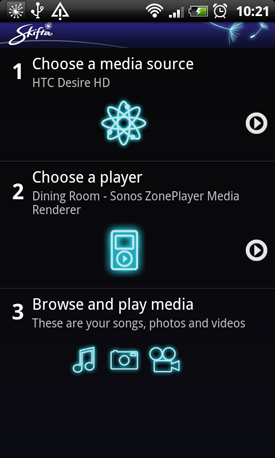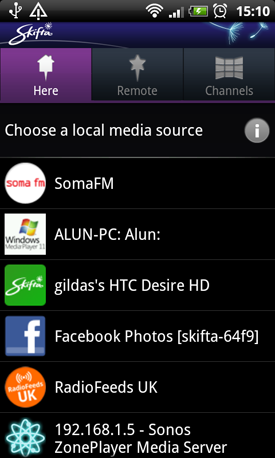 Getting started with source options
Some handsets have built-in tech to handle this but I've yet to encounter any as reliable as Skifta which has been developed by Qualcomm Labs – a company that knows a thing or three about getting kit to communicate.
Using Skifta I've streamed stuff to connected TVs, PS3s, Sonos players and Philips' Streamium boxes both at home and away thanks to the handy remote access option. Not once has it let me down.
Installation and use could not be more straightforward – just download the app, make sure you are hooked up to a 802.11 network and then select the media source, the player and the files you want to look at or listen to and off you go. Media can be accessed directly from your handset or any compatible media server running on a PC or Nas box.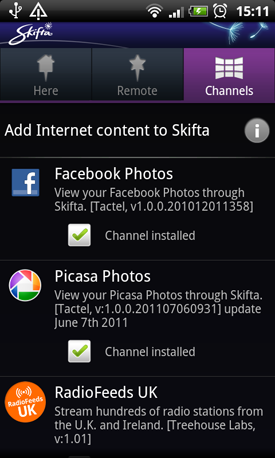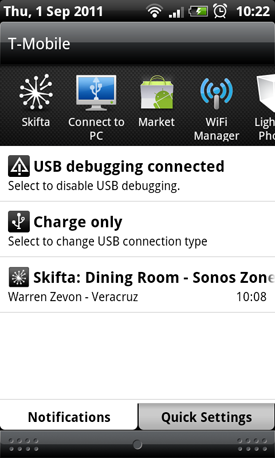 The inevitable on-line options
Sign up for a free account and you can also stream cloudy stuff like your Facebook and Picasa photo libraries or music from ShoutCast, SomaFM and RadioFeeds UK. The list of cloud channels is frankly a bit sparse at the moment but future additions are promised.
The interface is simplicity itself and makes good use of your phone's built-in controls with the Now-Playing button launching from the status bar and output adjusted by using the handset volume rocker.
A feature I really applaud is the way Skifta adopts whatever video players you have installed on your handset – V Player and MoboPlayer in my case – so you don't have to worry about codecs. If you can play it on your phone, you can stream it.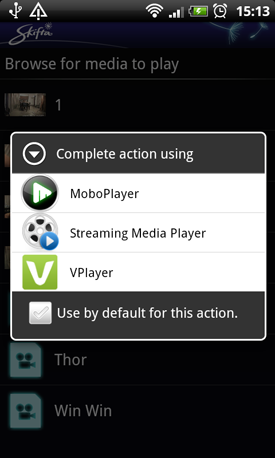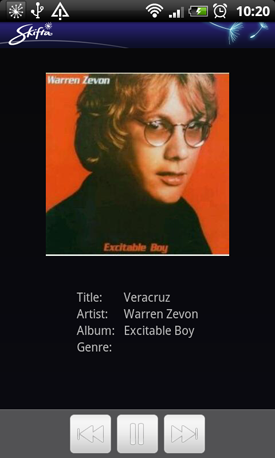 Preferred media players are utilised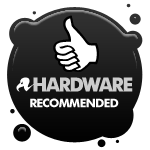 Still officially in beta, yet it seems perfectly finished to me, Skifta is as free as the air you breath and is proof, if it were needed, that you don't need to take the Apple shilling for things to just work. ®
Size 5.4MB
App2SD Yes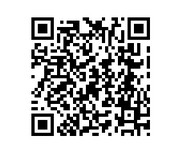 We make our choice of the best Android smartphone and tablet downloads every Tuesday. It you think there's an app we should be considering, please let us know.
More Android App of the Week Winners

Hologram
Live
Paper
Camera
Cerberus
DeskSMS
RunPee

Skifta
Media streaming from your handset