Intel, Google 'optimize' chips for Android
Today, tomorrow, and forevermore
---
IDF 2011 Intel will add another layer to its ongoing partnership with Google, announcing that the two companies will work together to optimize all future releases of Android for Intel-architecture processors.
"Google and Intel have been working together as partners in computing solutions for many years in the data center, on Google TV, on Chrome OS," Intel CEO Paul Otellini told attendees during his Intel Developer Forum keynote address on Tuesday. "And now our smartphone design teams have come together on optimizing our silicon and our designs for Android."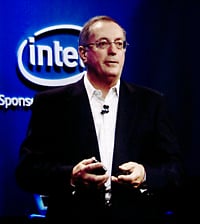 Paul Otellini at IDF 2011
Earlier this year, Otellini let it be known that Intel was porting the tablet-specific Android 3.0, aka Honeycomb, to Intel architecture. Apparently, the IDF announcement deepens and extends that effort.
Andy Rubin, Google's senior vice president of mobile, joined Otellini on stage, and effused about partnering with Intel. "The partnership has been great," he said. "We've optimized a lot of our products, including what's running in the data center, every time [there's been] some new types of core redesign – obviously being handled by the IA architecture."
Otellini brought the discussion out of the data center and into your pocket or onto your lap, telling Rubin: "We have lots of products coming out that I hope you guys can take advantage of in phones and tablets. And we're excited about optimizing our silicon and reference designs around not just the current releases of Android, but the future ones as well."
Rubin took a moment to explain the meat of the agreement. "We're going to collaborate very closely to make sure that Android is optimized the best it possibly can be for the Intel architecture," he said. "Going forward, all future releases of Android will be optimized."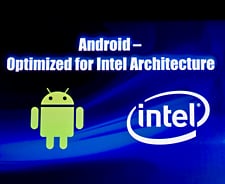 On-stage engagement announcement
Rubin said that the optimization will be broad-ranging, beginning with "the very low levels" of hardware-software interaction, citing as examples the Android kernel, Intel's memory-management abilities, and other "great features of these low-power IA architecture [chips]," including multimedia, 3D graphics, and other SoC capabilities.
Otellini was careful to emphasize the ongoing nature of his company's partnership with Google. "Every time we've collaborated with Google," he said, "good things have come out of it. So I'm excited – and have high expectations – around this as well."
Otellini was excited. Rubin was excited. Following the rubrics of keynote exchanges, in the two minutes that Rubin was on stage, he and Otellini expressed their mutual excitement a good half-dozen times. ®