IDC 2011 Intel claims that platforms built around its Haswell microarchitecture – the successor to the today's Sandy Bridge, scheduled for 2013 – will use one-twentieth the power of today's stingiest low-power platforms.
"Haswell was designed to enable a 30 per cent reduction in connected standby power over the currently shipping notebooks using our 2nd Generation Core microprocessors," Intel CEO Paul Otellini said during his keyote presentation at the Intel Developer Forum. "But we can do more than that. We can do much better than that."
Haswell will already have one jump on today's 32nm Sandy Bridge processors, which Intel brands as their 2nd Generation Core processors: Haswell will be manufactured using the same 22nm tri-gate process that will be used in Ivy Bridge, Sandy Bridge's follow-on, which is scheduled to appear next year.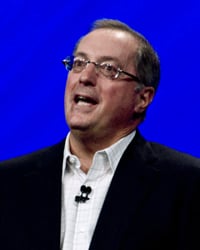 Otellini extolls Haswell at IDF 2011
Ivy Bridge, however, is a "tick" to Sandy Bridge's "tock", to use Intel's tick-tock parlance: a tick is a process advancement, such as moving from 32nm to 22nm, while a tock is a new microarchitecture. Ivy Bridge is a shrunken Sandy Bridge, while Haswell is a new architecture debuting on the same 22nm process used by Ivy Bridge.
With a new architecture, Haswell can have tools baked into it that can help it fulfill Otellini's "much better than that" promise.
Otellini told his keynote crowd the Intel has already completed the design of its next-generation microarchitecture, then he launched into a wonderfully jargon-filled explanation of Haswell's power-saving potential: "We've targeted Haswell's design not just for lower power, but for architecting a system-level power-managemnent framework that's supported by efficient systems design throughout the ecosystem that has the opportunity to reduce the platform power by a factor of more than 20 over our current designs."
Then, understandably and rhetorically, he asked: "What does this mean?"
He then answered his own question. "This means that we will be able to enable all-day usage and more than 10 days of always-connected standby capability on a single charge from the power grid," he said, "and deliver all of this without compromising any of the performance that you have come to expect from today's mainstream notebooks."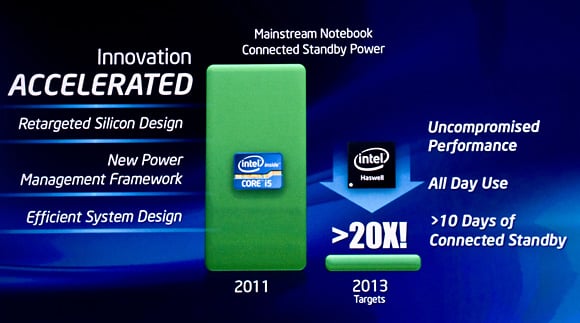 Haswell promises a 20X power reduction – with a little help from its platform friends
For Haswell to work this 20X magic, it appears that all the elements of the system will need to play along – such as SSDs, enabling tech for always-on standby capability, display and input technology, and the like – which appears to be one reason that Intel has instituted its $300m Intel Capital Ultrabook Fund to boost development of those slim, power-miserly notebooks.
It also appears that the ultrabook – or, actually, Ultrabook™, since Intel has trademarked the term – will not reach its full promised potential until Haswell appears in 2013, even though the first generation of them should be on store shelves by this hoiday season, and more will appear along with Ivy Bridge in 2012.
"The implications for the Ultrabook are huge," Otellini said, speaking of Haswell, "and from my perspective the timing couldn't be better."
Well, we might quibble with that last statement. With Windows 8 gearing up for a expedited launch mid–next year, and with a Windows 8 port to ARM in the works, having to wait for Haswell until 2013 might not best be described as timing that "couldn't be better." ®
Similar topics