This article is more than 1 year old
Microsoft touts Windows 8 fondleslabness
Would you like to touch my operating system?
BUILD Steven Sinofsky has touted Windows 8 as one Microsoft's most significant redesigns since the arrival of Windows 95 more than 15 years ago.
On Tuesday, in Anaheim, California, Sinofsky used the opening keynote of the Microsoft's BUILD developer conference to show off the current Windows 8 build, the forthcoming Windows Store, and the hardware the OS will be running on.
The OS is built around the Metro design familiar to Phone 7 users. All software capable of running on Windows 7 will work on the new OS, he promised, and it will require less hardware to do so. As an example, he showed a first generation Atom-powered netbook running Windows 8 using around half of the memory of Windows 7 and fewer permanent processes.
The OS itself (full review here) is a major departure for Microsoft. Gone are most of the toolbars and widgets that Microsoft has traditionally used, and in their place, you'll find customizable application tiles you can move across the screen with a flick of the finger or a click of the mouse. Around the edge of the screen, Microsoft reserves a line of pixels for menus, and the same design philosophy extends to Internet Explorer 10, which hides toolbars as needed.
When it comes to developers, Microsoft has set up a number of templates that let them grab C++, C#, XAML, and other code and add it into the Metro framework with little fuss – at least in theory. He promised that any Metro app would run on any Windows 8 system, regardless of the platform or processor.
"If you build a Metro application, then that app will just run on ARM hardware, you don't have to worry about it," he said.
"The opportunity is with Windows. Applications will run on all new Windows 8 PCs, laptops, tablets. Any Windows 8 PC is your target customer - so the market could be 400 million people on launch."
Sinofsky also demonstrated the forthcoming Windows Store, which is meant for Metro applications - although there will be a small section of the marketplace for older 32-bit code. The site, built in HTML5 and JavaScript, follows the standard format of categorized software areas and allows the sale of trial versions of applications. For developers, it offers a set of compliance templates that can be added to code.
Touch will be central to the Windows 8 platform, he said, and that includes both the OS proper and Internet Explorer 10. Of course, traditional keyboard and mouse commands will still be fully supported for precision pointing and content generation. Microsoft is touting Windows 8 as a suitable system for tablets and showed off both ARM and Intel-based hardware throughout the keynote. Sinofsky got his biggest cheer when he announced that attendees would be getting a free Samsung fondleslab.
Microsoft has already made much of the ultra-fast boot time of the new OS, and it plans to allow fast restarts from hibernation using an ultra-low power state. While in hibernation, the operating system can still get brief updates from the network – "Connected Standby", the company calls it – and when it's not in hibernation, you can put individual applications to sleep.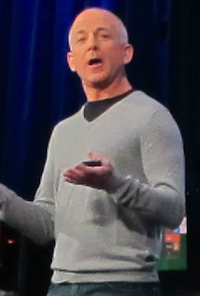 Steven Sinofsky
Data sharing and interoperability between applications will also be key to the new OS, Sinofsky promised, with each Windows 8 user getting a SkyDrive account to allow data to be shared between applications and devices. This will take a fairly major reworking of Microsoft's current main licensing strategy, but no details were given on how this would be organized.
Sinofsky also pointed out that for the first time, Windows 7 was now more popular among consumers than the decade-old Window XP, with around 450 million copies sold. However, this implies that plenty of businesses are happy with to stick with XP for the moment.
The Windows 8 developer release will be available for download at 8pm Pacific time on Tuesday and won't require authentication, but Sinofsky said you shouldn't expect any support for the code. The release schedule will be similar to Windows 7, but the company said it would not give exact release dates until it felt the code was ready to go. ®