Antique Code Show Star Control 2 is a bloody good game, but not the game I fell in love with. Yet it was playing the original Star Control on my Sega Genesis that just makes me feel all squidgy inside. With colour spaceships that battle across my screen to eerie alien toonz, I didn't need Arnie in Total Recall to fulfil my sci-fi fetish.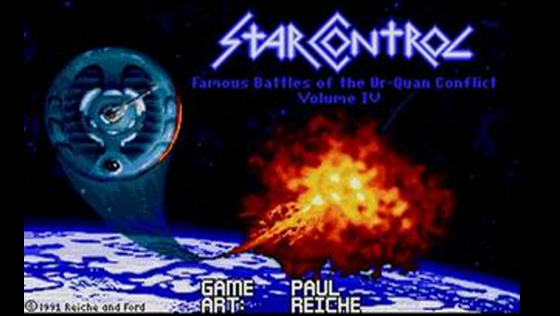 Mapping the heavens: Star Control
In the same year the Hubble telescope was launched this classic game etched it's own niche in the gaming world. For its time, Star Control was state-of-the-art, especially for its use of 3D star maps.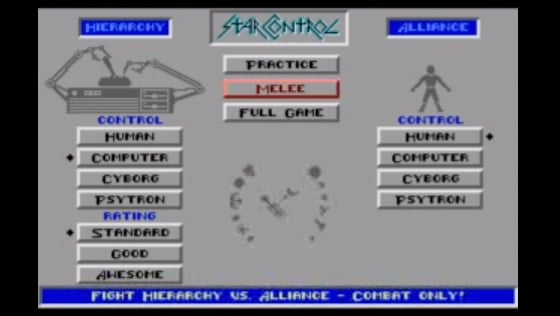 Mêlée mode, anyone?
For me Star Control was all about mêlée mode, where I was introduced to the Alliance of Free Stars and the Ur-Quan Hierarchy who are at war. Each side controls seven distinctive spaceships; each spaceship is equipped with two kinds of military hardware. They are mainly weapons but also include shields, nukes or teleportation devices. There's one that will even completely transform your original ship in to a different vessel. The key is to try and balance their individual strengths and weaknesses.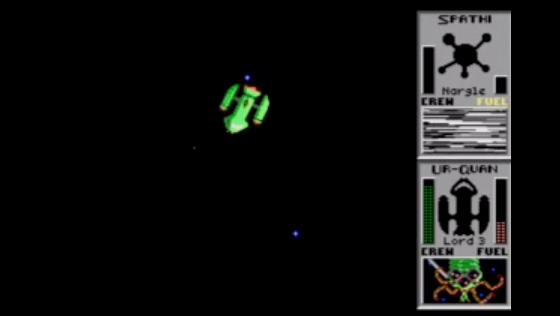 Keep an eye on your foe
Star Control had the coolest pictures of the opposing Captain and the character I have chosen on the right of the screen. I can almost look my opponent in the eye as I call upon some crazy ass Star Trek space strategy. My crew equalled my hit points and, once I was down to no crew, my spaceship would explode.
The baddies of this story are the aggressive hefty beige maggot species known as the Ur-Quan. They want universal domination and will enslave any species that stand in their way.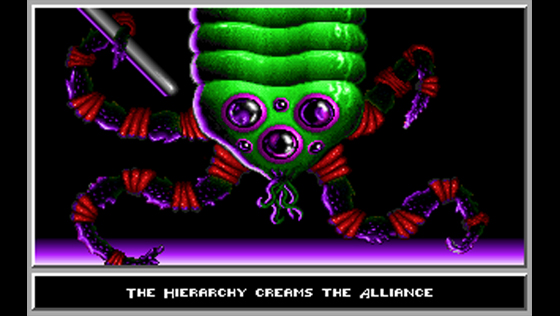 In victory, a not-so magnanimous maggot
Who will stand against these alien worms? From the Procyon star system the shiny Chenjesu monitor the Ur-Quan communications and decide it's a good idea to gather a competing alliance of the free star-faring races. Earth was the final race to be recruited and join the ranks of the Alliance of Free Stars.
As Admiral Lucy, I have to choose a fleet of seven unique ship combinations headed by a flagship. So, to start with that will be the Ur-Quan flagship Dreadnought (overpowered, you cry) with its fusion detonations and secondary armament that launches waves of fighters. Or at a toss, the Alliance Chenjesu Broodhome craft, who can say no to crystal shards, which splinter in proximity to an enemy craft?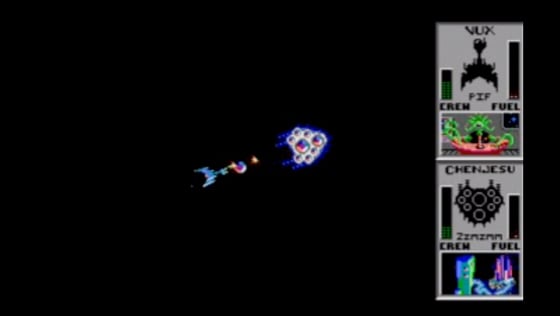 Ships in the night
Discovering the different combinations of ships kept me busy for much of 1990 and I can see how this game quickly developed a cult following. It was all about picking my favourite ship, The Penetrator – controlled by the green-skinned hotties, the Syreen – and working out strategies to conquer the enemy with my giant space phallus.
One of my fondest memories of Star Control was beating my friends when it was released with a two-player mode for the Sega Megadrive. Being the new overlord of space, PVP kept me going until I started kicking everyone's ass at Goldeneye on my N64.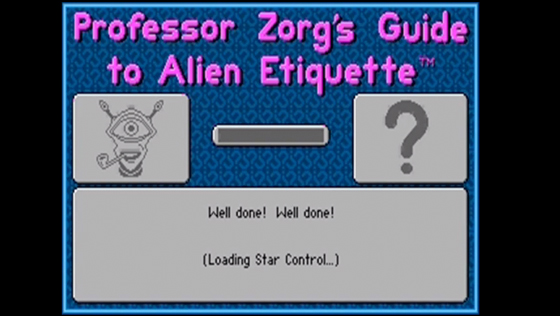 Educational too...
Yes, yes, I know you're all going to start shouting about the sequel Star Control II: The Ur-Quan Masters which I will agree is something else, but the Genesis version of Star Control is the Promethean fire of space games and is a masterpiece of successful, simple but absorbing gameplay. ®
Every fortnight, Reg Hardware will be revisiting memorable titles from gaming's illustrious past.
Developer Toys for Bob
Year of release 1990
More Info Star Control for older platforms is still available from on-line marketplaces such as eBay and Amazon.