This article is more than 1 year old
Ballmer reprises 'developers, developers, developers' chant
Windows is a money machine, howls MS boss
BUILD Steve Ballmer has told developers that if they want the biggest market for their software, the only choice is Microsoft.
In a surprise appearance at Microsoft's BUILD conference in Anaheim, California on Wednesday, Ballmer said that when Windows 8 goes live, there will be 500 million machines capable of running the new OS, and he boasted that developers could reach these millions through the new Windows Store and Azure marketplace. It's a market that no other company can match, the Microsoft CEO said, and it's the best way for developers to actually make some money.
"It's a time of unprecedented opportunity for developers and betting on us will be valuable," he said. "It's the day and age of the Windows developer. Let's move forward together and seize the opportunity for developers, developers, developers."
Sadly, there was none of the bouncing around and sweaty gurning that accompanied his infamous "developers, developers, developers" chant back in 2006. Last year, Ballmer said he was too old for such shenanigans. But despite his more subdued approach, Wednesday's BUILD crowd ate up his encore performance.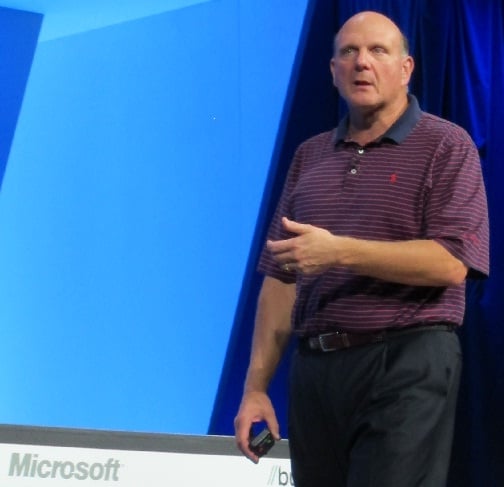 Just as Windows 8 is a "reimagining" of the whole OS platform, Ballmer explained, Microsoft is in the process of reimaginging itself. All seven Microsoft business groups – Windows, Phone, Azure, Xbox, Office, Bing and Dynamics – are going over their portfolios and reworking them for use with cloud services. Ballmer promised that more company data, such as Bing results, would be made available to developers for integration into future software.
Backwards compatibility will be built in to future code, he said, saying that the next version of its smartphone OS will run any existing Phone 7 application and claiming that Windows 8 is capable of running code two decades old. We would argue that running a Windows 3.0 app on the current OS is all but impossible in the real world. But there you have it.
On the hardware side, Microsoft is taking a leaf out of Apple's book. Ballmer says the company will be working much more closely with manufacturers to integrate Windows with devices. Obviously, the success of Apple's iron control over the production process has Redmond jealous, and Nokia is a prime target for this kind of integration. Ballmer promised a host of new phones and form factors coming from its Finnish bitch partner very soon. ®