IDF 2011 Pundits have been talking about building GPS and other sensors into notebooks for some years. Now it may actually happen. Optional for the moment, Intel is planning to mandate the addition of a variety of sensors into its Ultrabook spec.
Speaking after his IDF keynote today, Intel's PC Group chief, Mooly Eden, said he wants Ultrabooks to become fully context aware.
That means they know exactly where they and the user are, can detect whether someone is sitting in front of them - and be able to provide relevant feedback to the user based on that information.
All this is part of Eden's vision that notebooks will become highly portable - in no small part to the Ultrabook spec's 18mm thickness limit - personal companions like modern day Apple Newtons - in concept, if not actuality - with keyboards, able to intelligently help users manage their lives.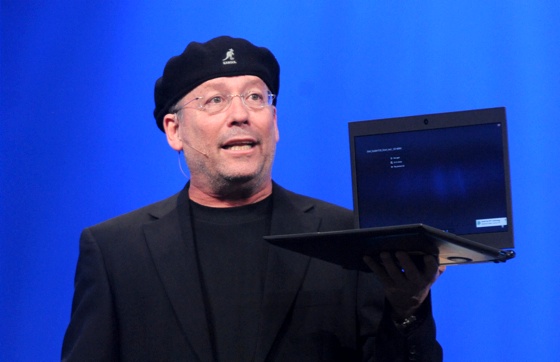 Mooly Eden
GPS tech, for instance, allows such a computer to cross-reference the user's location with his or her diary to spot that a meeting in another town may need to be rescheduled because of heavy traffic on the way - and to send out the appropriate communications, even when the laptop is asleep in a bag on the passenger seat.
Intel's Ultrabook spec already includes Intel Smart Connect Technology to allow a sleeping machine to momentarily come awake enough to pull down information - Tweets, Facebook updates, email - from the internet. Like phones, laptops will be always connected, through Wi-Fi where possible and cellular links elsewhere.
Beyond that, Eden said he expects notebooks to gain voice recognition and a range of camera-tracked eye and gesture recognition technology.
The user's not looking at the computer? Then automatically turn off the backlight to conserve power. Switch it back on again as soon as he or she turns to look at the screen again.
And the trackpad will become a touch-sensitive panel that fills the entire palm rest area. The screen will become touch-sensitive too.
"Five years from now, the way we use computers today will seem primitive," Eden said. ®