This article is more than 1 year old
Hands on with the Windows 8 fondleslab
Beefy tablet passes muster
BUILD Developers attending Microsoft's BUILD conference will go home with a brand new Windows 8 tablet from Samsung. And it's not half bad.
The fondleslab is rather curiously named the Samsung Windows 8 Developer Preview PC – no mention of the word tablet – and it's unlikely to see the light of day as a commercial product. But it provides some interesting insights into what kind of tabler Microsoft would like to see people using.
In hardware terms, this tablet beats anything else on the market for sheer grunt. The system ignores wimpier Atom or Tegra processors in favour of a second generation Intel Core i5 processor, and it includes 4GB of DDR3 RAM and a 64GB SSD hard drive. The 11.6-inch Super PLS 1366-by-768 display looks as good as - if not better than - anything else on the market, and it accepts input from either the finger or the pen.
The rub is that the unit weighs in at around two pounds, which makes it difficult to hold with one hand.
It's likely that this level of hardware would make the device the most expensive tablet on the market - and battery life would be an issue too. But this machine is meant for developers to debug the applications they'll be writing for Windows 8, so there has to be a good level of power.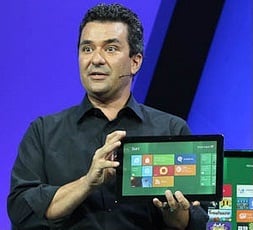 For connectivity, the tablet comes with 802.11n Wi-Fi and a SIM card slot, and attendees will get 2GB of free 3G data every month. A microSD card slot, a USB port, and an HDMI port are built into the chassis, and there's a charging dock with additional USB, HDMI, and Ethernet ports.
The tablet comes with a universal extensible firmware interface (UEFI) that provides a quick boot up - around five seconds, in limited tests – and generally, we were impressed with how easy it is to use the device. The touch interface felt much more precise than what you get on an equivalent Apple or Android fondleslab. Fingers are generally good enough to hit the icon you want, but the pen is needed for finer control.
The Metro interface works well, with smooth side-to-side scrolling and an excellent virtual keyboard. Both sound and video playback are good, and the dual microphones would be handy for running voice recognition software.
Microsoft also showed off a variety of other tablets built around Windows 8 at the conference's opening keynote, including some ARM machines that would be much more in keeping with the rest of the tablet market in terms of both specification and price. Clearly, this tablet is designed to show off Windows 8 at its best, but it raises the question of how well the new OS will run with less powerful systems. ®