Product Round-up As mobile phones and other electronic gizmos generally pack their own voice recorders these days, the necessity of buying of a standalone dictaphone seems doubtful. Yet a dedicated model has distinct advantages with typically better recording quality, a longer battery life and voice actuation. Also, recordings are not going to be interrupted by phone calls and if colleagues need to use it, you'll be less bothered than handing over your phone.
Unless mentioned otherwise, all of the following models have voice actuation (paused recording during silent passages), monitoring functions and external mics support. Also, with one exception, all feature built-in speakers, although low-fi is the order of the day here.
Grundig Digta 7

German company Grundig has been in the dictation industry for over 50 years and this shockproof model takes itself very seriously. The Digta 7 features a configurable slide switch, which seeks to make the recorder effortless to operate without having to focus on fiddly controls.
Albeit somewhat plasticky, this clunky transport control is designed to help users feel their way through operation. Clearly based upon old-school tape dictaphones, it certainly took some getting used to. Foibles aside, the build quality is first rate, with a lightweight yet sturdy body surrounded by touchy-feely rubber. The display is large, bright, clear and logical. It's all just a bit too walkie-talkie though.
Appealing to corporate concerns, the Digta 7 packs in 128/256-bit encryption, pin number protection. Then there's speech recognition with built-in Nuance VoCon to enable ID tagging of recordings, and an elaborate docking station, with a port to charge the spare battery. Oh and if that wasn't enough, the Digta 7 even offers Bluetooth capabilities – apparently, the first standalone dictation device to do so.
Sound is well received and and of a very high standard, recorded in either DSS/Pro, MP3 or Wav from a selectable 8 - 48kHz sample rate. Data is stored automatically to the 2GB in-built memory, although there is SD card expansion too and a rechargeable battery touted to survive 25 hours of recording. In order to justify the cost though, using the Digta 7 on regular basis is a must, as well as a need for all those security settings. It's a big product that demands you spend big as well.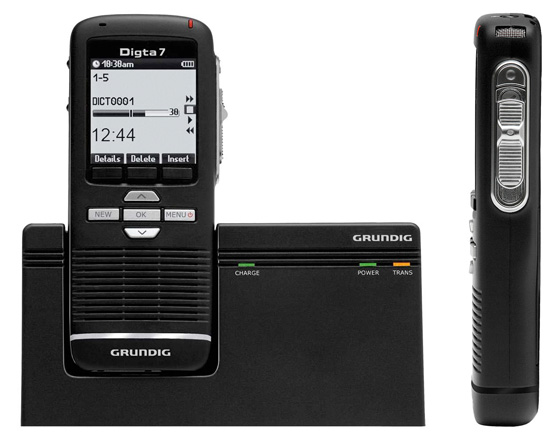 Reg Rating 80%
Price £260
More info Grundig
Olympus LS-3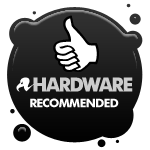 Switch the Olympus on and it starts talking to you, reading every move aloud. While thoughtful for the blind or partially sighted, I hastily switched it off. The LS-3 is reassuringly weighty and robust. The layout doesn't overwhelm, with sensibly positioned controls that make light work of navigating its large, bright display.
Audio is recorded in numerous formats, with Wav, MP3 and WMA all on the cards in various bit-rates. The highest, a whopping 96kHz/24bit Wav recording is as crisp as they come. While the two condenser mics pick up a broad soundscape, a third omni-directional central microphone helps bring out a subtle bass with great results. To help keep an eye on levels, there's two peak indicator lights too. The aluminium body result in a fair amount of handling noise, so you need to be mindful of this.
Recording time is rated at 44hours from its two AAA batteries. Rechargeable cells can also be topped up through its USB port. The LS3 packs 4GB of memory, but can be expanded with MicroSD and throws in an additional port for an optional remote control as well as a tripod mount.
The Olympus LS-3 is a wonderful device with just about every setting under the sun. It even has pre-record buffer that eliminates moments of lost starts to sentences by capturing two seconds of audio prior to hitting go. Alas, it is a bit on the pricey side, which just keeps it from clinching the Editor's Choice award, and it could benefit from lower handling noise, but overall the LS-3 is a noteworthy device, which sits firmly up there as one of the best in this roundup.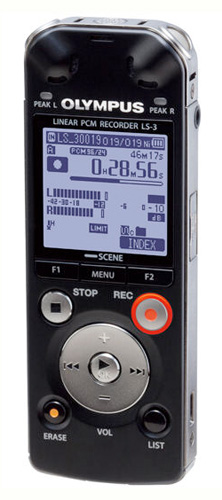 Reg Rating 90%
Price £180
More info Olympus