This article is more than 1 year old
LOHAN checks into REHAB
Hypobaric chamber backronym sorted
Following an emergency all-night sitting of the Special Projects Bureau Celebrity Backronym Perusal Soviet (the agreeably palindromic SPBCBPS, as it's known at Vulture Central), we can announce that our Low Orbit Helium Assisted Navigator (LOHAN) hypobaric rocket motor test chamber will henceforth be known as the Rocketry Experimental High Altitude Barosimulator, or REHAB.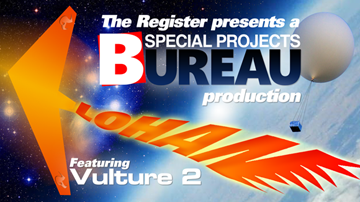 Yesterday, we published a draft proposal for a LOHAN vacuum beast, designed to see whether a solid rocket motor could be persuaded to fire at altitude and low temperature. We invited our beloved readers to suggest suitable backronyms for the device, and you impressively rose to the occasion.
Here are some of your entertaining proposals:
LOHAN Orbital Vacuum Explosive-Launch-Accelerator Chamber Experiment (LOVELACE)
Depressurised Evacuated Explosive Pyrotechnic Temperature and Hypobaric Regulated Organic Accelerant Testing (DEEPTHROAT)
Temperature Inhibited Main Body Evacuated Rocket Launch Activity KPI Evaluator (TIMBERLAKE)
Thermally Insulated Tubular Tropospheric Ignition Evaluation Station (TITTIES)
Hypobaric Experimental Rocket Performance Evaluation System (HERPES)
Simulated EXplosive Temperature And Pressure Experiment (SEXTAPE)
Atmospheric Ignition Rig Burn And Gauge System (AIRBAGS)
Rocket Ignition Chamber for Hypobaric Integrity Experimentation (RICHIE)
Good stuff. In the end though, we felt we really couldn't imagine LOHAN without at least a touch of REHAB, and the delicious headline possibilities of the two backronyms finally swung it.
So, it's time for us to seriously contemplate REHAB. We've taken on board your suggestions as to how to improve our initial design, and will present a revised concept graphic for your viewing pleasure tomorrow. ®
Bootnote
Don't be too downhearted if your backronym wasn't selected for vacuum chamber glory. There will be plenty more opportunities for this kind of tomfoolery as LOHAN works up to an explosive climax.